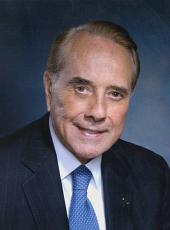 Press Release - Retired Generals and Admirals Campaign Endorsement News Conference
WASHINGTON, D.C. -- Over 100 of America's retired Generals and Admirals - from all branches of our nations military - joined former Secretaries of Defense Donald Rumsfeld and Caspar Weinberger at a news conference today to express their support for Bob Dole as their choice for our nation's highest military position, Commander-in-Chief.
"Bob Dole," said Dole/Kemp National Campaign Chairman and former Secretary of Defense Donald Rumsfeld, "is the right leader for our country and for our Armed Forces. He proudly wore the uniform which was worn by these distinguished military leaders. He knows what deploying troops means, and in fact, he was one of them."
"This group," said former Secretary of Defense Caspar Weinberger, "of retired military leaders - along with over one hundred other military leaders who have signed a statement endorsing Bob Dole represents the accumulation of over 3000 years of military service to the United States. Although they are now retired, they know how vital it is that our nation's Armed Forces be led by a Commander-in-Chief with the kind of experience that Bob Dole has. I believe that we do not have that kind of leadership today."
The retired military officers offered their own personal views of the Clinton presidency and his role as Commander-in-Chief:
Retired Army Lieutenant General Edward L. Rowny -- who served as Chief strategic arms negotiator -- praised Dole for his support for the Strategic Arms Reduction Treaties (START I & START II), particularly for his leadership when the treaty was overwhelmingly passed by the United States Senate, 88-2.
"Unfortunately," said Rowny, "the Russians are dragging their feet and have not ratified START II. If Bob Dole is elected, we will see the strong leadership required to see to it that the Russians do in fact ratify this treaty."
"I'm a retired Air Force General," said Lieutenant General James E. Chambers, "and I know that we have become a do more with less military under Clinton. Four more years of Clinton, and we will be a do much more with much less military."
Robert Dole, Press Release - Retired Generals and Admirals Campaign Endorsement News Conference Online by Gerhard Peters and John T. Woolley, The American Presidency Project https://www.presidency.ucsb.edu/node/315707