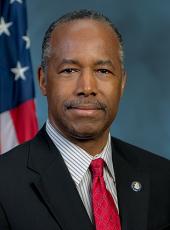 Press Release - Republican Senators Charles Grassley and Joni Ernst Praise Dr. Ben Carson in Iowa
Des Moines, Iowa - January 30, 2016 - Dr. Ben Carson, retired neurosurgeon and GOP presidential candidate, was separately joined by Senators Charles Grassley and Joni Ernst at Trust in God Townhalls in Iowa City and Mt. Pleasant, Iowa yesterday. Both Republican Senators praised Dr. Carson's faith and conviction and expressed admiration for his inspirational story.
"You don't have to have a political title to perform as President, but you have to have common sense, and Dr. Carson has a lot of it," said Senator Grassley in introducing Dr. Carson to the overflow crowd at the University of Iowa University Club in Iowa City. "Washington is an island surrounded by reality, and we need someone from the real world to help our country."
At Wesleyan University in Mt. Pleasant later in the afternoon, Senator Ernst spoke about the importance of spiritual belief in America and the need to have a person of faith in the White House. She introduced Dr. Carson to the 450-person crowd stating, "I admire Ben so much for his devotion and was impressed that during last night's debate, he was not afraid to express the importance of faith in his life and how he would lead by example."
Dr. Carson expressed his appreciation to Senators Grassley and Ernst and emphasized how honored he was to have them join him on the campaign trail. "I have been blessed to meet the Senators' constituents across this great state, and have been humbled to learn about their concerns, hopes and aspirations for our nation," said Dr. Carson. "I look forward to seeing many more Iowans in the run-up to the Iowa Caucuses on February 1st. Together, we will 'Heal, Inspire and Revive' this country."
After his successful performance in the GOP Presidential Debate in Des Moines on Thursday, Dr. Carson continues to crisscross the Hawkeye State in the remaining days before the caucuses, emphasizing the themes of security, unity, economy and moral authority.
Ben Carson, Press Release - Republican Senators Charles Grassley and Joni Ernst Praise Dr. Ben Carson in Iowa Online by Gerhard Peters and John T. Woolley, The American Presidency Project https://www.presidency.ucsb.edu/node/312689