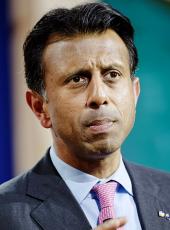 Press Release - RedState: Conservative Voters Should Give Bobby Jindal A Chance
While we are still a few months from the start of the voting and the need to get this down to a 2 or 3 candidate race (as it should be by early/mid March), time is already running short for the oversized 2016 GOP field to contract and winnow out at least 6 or 7 of the dark-horse candidates. For the good of the party, given the sprawling size of the 14-candidate field (originally 16, before Rick Perry and Scott Walker honorably bowed out), people need to step aside and stop draining money, polling support and TV time away from center stage, and let the voters decide among the survivors who have a real chance of soldiering on through the spring. Along the way, some interesting and/or qualified candidates who might have gone further in another year – Chris Christie, John Kasich, even onetime poll frontrunners Jeb Bush and Sen. Rand Paul (R-KY) – may fall by the wayside. So may two candidates who actually did go further in past years: Rick Santorum and Mike Huckabee. But as that winnowing process kicks into gear, conservatives and Republicans ought to give another long look at the best candidate in either party's 2016 field: Louisiana Governor Bobby Jindal.
Jindal is both the youngest and most experienced candidate in the race, the one with the best record of conservative accomplishment, the best and most detailed conservative platform, and the proven character and ability to lead the nation in crisis and to turn policy proposals into actual results. He is both the best potential President in the 2016 GOP field and a better general election candidate than any of the alternatives who might be considered more conservative or more anti-establishment. No candidate is perfect, but Jindal deserves to be among the finalists in this race, and should certainly be a significant part of the next Republican Administration.
Bobby Jindal, Press Release - RedState: Conservative Voters Should Give Bobby Jindal A Chance Online by Gerhard Peters and John T. Woolley, The American Presidency Project https://www.presidency.ucsb.edu/node/311686