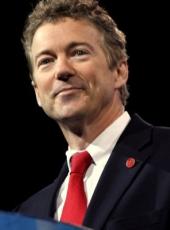 Press Release - Rand Paul's Timely Takedown of the Patriot Act
New York Times

By The Editorial Board

May 21, 2015
He may have annoyed Senate colleagues by seizing the floor for a marathon monologue on Wednesday, but Senator Rand Paul did Americans a singular service by forcing attention to the fact that their civil liberties remain at stake as Congress drifts toward a renewal of the Patriot Act that is likely to do too little to rein in government surveillance programs.
"Are you really willing to give up your liberty for security?" Senator Paul asked in his unexpected, 10-and-a-half-hour quasi-filibuster.
The Kentucky lawmaker candidly linked his floor speech to his campaign for the Republican presidential nomination, where he is determined to make more of a public issue of government intrusion into the private lives of Americans after the 9/11 attacks. This is to be welcomed, particularly since so many of his rivals prefer to slide off the issue by endorsing a compromised and faulty renewal of the Patriot Act as it expires on June 1.
Click here to continue reading the full article: http://www.nytimes.com/2015/05/22/opinion/rand-pauls-timely-takedown-of-the-patriot-act.html
Rand Paul, Press Release - Rand Paul's Timely Takedown of the Patriot Act Online by Gerhard Peters and John T. Woolley, The American Presidency Project https://www.presidency.ucsb.edu/node/317009