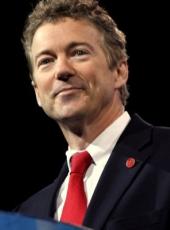 Press Release - Rand Paul Rally in Seattle Draws Hundreds – Including Some Bernie Sanders Fans
KUOW

By Liz Jones

August 27, 2015
Presidential hopeful Rand Paul continued his Western tour with campaign stops in Seattle and Spokane Wednesday.
At Seattle's Town Hall, hundreds chanted "President Paul" as he took the stage. Afterward, many waited in a long line to get a photo with the candidate.
"He's definitely my number one candidate," said Angela Wilcox, who convinced her dad, Jim Wilcox, to drive three hours from Portland for this rally. Angela is 14 and won't even be eligible to vote in the next presidential election.
The pair left their Portland home at 1 a.m. to make sure they didn't hit traffic delays on the way to the rally.
Angela says she didn't want to miss an opportunity to hear Paul speak. She said she likes Paul's position on individual rights and his stand against abortion.
"I definitely like that he's trying to defund Planned Parenthood," she said as she stood in line for a photo with the candidate. "That's something that's really important to me."
Paul is a Christian, a conservative and a Republican Senator from Kentucky. On stage, he talked about his aim make government smaller and limit U.S. involvement in war.
"If you're eager for war, there are 10 other people I can recommend," Paul said. "If you're eager for war, there will always be a Bush or a Clinton for you."
Paul also spoke at length about another of his key issues - to stop what he refers to as "government spying on Americans."
"There is absolutely no reason why the government should be looking at your phone records," Paul said, as the crowd responded with cheers.
Click here to read more: http://kuow.org/post/rand-paul-rally-seattle-draws-hundreds-including-some-bernie-sanders-fans
Rand Paul, Press Release - Rand Paul Rally in Seattle Draws Hundreds – Including Some Bernie Sanders Fans Online by Gerhard Peters and John T. Woolley, The American Presidency Project https://www.presidency.ucsb.edu/node/316977