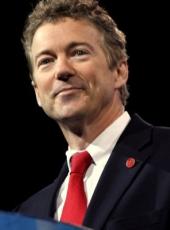 Press Release - Rand Paul for President Unveils Iowa Leadership Team
WASHINGTON, D.C.- Rand Paul for President today announces its Iowa Leadership team, composed of co-chairs from 99 counties along with district co-chairs, and several influential state-wide leaders. This leadership team will work to spread Sen. Paul's constitutional and fiscally conservative message throughout the entire state of Iowa.
"The Rand Paul for President Iowa Leadership team is active and growing. With the help of co-chairs representing 99 counties, we are on track to have most precinct captains in place by caucus night," says Steve Grubbs, Chief Iowa Strategist.
State Co-Chairs

David Fischer, Polk County- Ron Paul State Co-chair 2008 and 2012, Past Co-Chairman of the Republican Party of Iowa

Steve Sukup, Cerro Gordo County- Former State Representative and business owner, Sukup Manufacturing

Diane Holst, Scott County- Scott County Supervisor
State Agriculture Chair

Craig Lang, Poweshiek County- Former President of the Iowa Farm Bureau Federation, Former President of the Iowa Board of Regents
State Faith Chair

Pastor Mark Doland, Mahaska County- Mahaska County Supervisor and Past officer of the Republican Party of Iowa
1st District Co-Chairs

Tony Krebsbach, Mitchell County- Cochairman Mitchell County GOP, Past Secretary and State Central Committee Member at Republican Party of Iowa

David Cushman, Dubuque County - Past State Central Committee Member at Republican Party of Iowa. Past Chairman at Dubuque County GOP

Matt Miller, Linn County - CEO and Founder of Mobile Demand

Sarah Stokes, Black Hawk County - Delegate 2012 RNC Convention
2nd District Co-Chairs

Jason Glass, Johnson County - Johnson County Chair for Ernst for Senate

Jeff Shipley, Jefferson County - Chairman Jefferson County GOP. Past State Central Committee Member at Republican Party of Iowa

Mark Doland, Mahaska County - Mahaska County Supervisor. Past Chairman at Mahaska County GOP. Past Secretary and State Central Committee Member at Republican Party of Iowa

Marcus Fedler, Washington County - Past State Central Committee Member at Republican Party of Iowa
3rd District Co-Chairs

Adil Khan, Polk County - Past Executive Director at Liberty Iowa

John Kabitzke, Warren County - Past Treasurer and State Central Committee Member at Republican Party of Iowa

Jonas Cutler, Polk County - Secretary at Polk County GOP. Alternate Delegate 2012 RNC Convention

Dusty Juhl, Polk County - Former State Coordinator of Iowa Campaign for Liberty, Delegate 2012 RNC Convention
4th District Co-Chairs

Kristine Thiessen, Clay County - Past Chairman at Clay County GOP. Past State Central Committee Member at Republican Party of Iowa

James Mills, Story County - Past Chairman at Floyd County GOP. Past State Central Committee Member at Republican Party of Iowa, Delegate 2012 RNC Convention

Titus Landegent, Sioux County - Alternate Delegate 2012 RNC Convention

Brian Kraft, Boone County - Delegate 2012 RNC Convention
County Co-Chairs

Ash Kading- Adair County

Jacob Reichenauer- Adams County

Robert Keatley- Allamakee County

Julie Stevens- Appanoose County

Adam Sievers- Audubon County

John Clapp- Benton County

Jon Fossum- Black Hawk County

James Moore- Black Hawk County

Brian Kraft- Boone County

Byron Olson- Boone County

Will Kemp- Bremer County

Michael McGreevy- Buchanan County

Nicole McGreevy- Buchanan County

J.R. McGuire- Buena Vista County

Valerie McGuire- Buena Vista County

John Franzen- Butler County

Paul McCoy- Calhoun County

Keaton Wanninger- Carroll County

Rick Johnson- Cass County

Monte Gaul- Cedar County

Matthew Graves- Cedar County

Pam Larson- Cerro Gordo County

Mick Joens- Cherokee County

Tom Pritts- Chickasaw County

Dale Mastarone- Clarke County

Kris Thiessen- Clay County

James Whitford- Clayton County

Charlie Arp- Clinton County

Patrick Lonergan- Clinton County

Andrew Naeve- Clinton County

Bob Langner- Crawford County

Monte Button- Dallas County

Kyle Ervin- Dallas County

Gerald Coyne- Dallas County

Josh Davenport- Davis County

Marlene Scott- Decatur County

Bill Boll- Delaware County

David Turner- Des Moines County

Louis Clay- Dickinson County

Joe Loring- Dickinson County

David Cushman- Dubuque County

Michael Heeren- Dubuque County

Jeff Stiles- Dubuque County

Rick Haase- Emmet County

Becky Haase- Emmet County

Ken McDonough- Fayette County

Calvin Adams- Floyd County

Mahlon Miller- Franklin County

Larry Gruber- Fremont County

Lena Gruber- Fremont County

Ryan Carhill- Greene County

Dean Lyons- Greene County

Loretta Jones- Grundy County

Huston Royer- Guthrie County

Tonya Rohloff- Hamilton County

Thomas Duregger- Hancock County

Brett Peters- Hardin County

Jaina Swanger- Harrison County

Bob Swindell- Henry County

Adam Skoda- Howard County

Chad Thompson- Humboldt County

Gregg Johnson- Ida County

John George- Iowa County

David Gossman- Jackson County

Travis Inghram- Jasper County

Doug Bricker- Jefferson County

Michael Fitzgerald- Jefferson County

Roger Leahy- Jefferson County

Jeff Shipley- Jefferson County

Jason Glass- Johnson County

Joseph Hodgson- Johnson County

Ben Cashner- Jones County

Brent Coffman- Keokuk County

Seth Briggs- Kossuth County

Lonnie Glasscock- Lee County

Ajai Dittmar- Linn County

Greg Happel- Linn County

Jeffrey Meyers- Linn County

Matt Miller- Linn County

Angie Davidson- Louisa County

Larry Davidson- Louisa County

Charles Musick- Lucas County

Erica Daniels- Lyon County

Kelly Bain- Madison County

James Horn- Mahaska County

Linda Marie- Mahaska County

Floyd Goemaat- Marion County

Mike Montgomery- Marion County

Esther Roorda- Marion County

Curtis Seddon- Marion County

Joe Carter- Marshall County

Rod Shere- Mills County

Tony Krebsbach- Mitchell County

Chris Walsh- Mitchell County

Teresa Miller- Monona County

Dan Vander Vort- Monroe County

Ron Wilkinson- Montgomery County

Walt Shellaberger- Muscatine County

Michael Schwien- O'Brien County

Jesse Dagel- Osceola County

John Bowery- Page County

Josiah Schmidt- Palo Alto County

Tonya Dempster- Plymouth County

Randall Lauderback- Pocahontas County

Cody Coenen- Polk County

Jonas Cutler- Polk County

Joseph Howe- Polk County

Adil Khan- Polk County

Gabe Lanz- Polk County

Dan Norton- Polk County

Rick Sidwell- Polk County

Vince Campos- Pottawattamie County

Mark Hansen- Pottawattamie County

Craig Lang - Poweshiek County

Bruce Hutton- Ringgold County

Joe Tanga- Sac County

Patrick Finnicum- Scott County

Brian Kucharo- Scott County

Brian Romer- Scott County

David Davis- Shelby County

Sam Fessler- Sioux County

Titus Landegent- Sioux County

James Mills- Story County

Robert Proffitt- Story County

James Surber- Story County

Dylan Bishop- Tama County

Wyatt Gray- Taylor County

Paul Kelley- Union County

Shaena Powell- Van Buren County

Rod Stevens - Wapello County

Nick DeFino- Warren County

David Faith- Warren County

John Kabitzke- Warren County

Mike Wachtel- Warren County

Becky Wachtel- Warren County

Marcus Fedler- Washington County

Chris Graber- Washington County

Anne Garber- Wayne County

Kyle Heidt- Webster County

Harley Utsbach- Winnebago County

Eric Paulson- Winneshiek County

Zach Rodenburg- Woodbury County

Brian Smith- Woodbury County

Shawna Katterhenry- Worth County

Bart Green- Wright County
Rand Paul, Press Release - Rand Paul for President Unveils Iowa Leadership Team Online by Gerhard Peters and John T. Woolley, The American Presidency Project https://www.presidency.ucsb.edu/node/316961