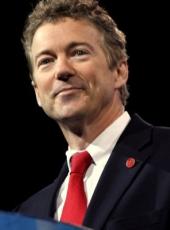 Press Release - Rand Paul for President Today Announces U.S. Congressman Cynthia Lummis (R-WY) as One of Its Western States Co-Chairman
Rand Paul for President today announces U.S. Congressman Cynthia Lummis (R-WY) as one of its Western States Co-Chairman. Congressman Lummis joins Western State Co-Chair CongressmanRaúl Labrador in this role. With this announcement, the Congressman will join a growing list of congressional representatives in support of Senator Rand Paul for President of the United States in 2016. Cynthia Lummis was elected to represent the people of Wyoming in the U.S. House of Representatives in 2008. She was raised on her family ranch in Laramie County and graduated from the University of Wyoming with bachelor degrees in Animal Science and Biology. In 1979, Cynthia became the youngest woman ever elected to the Wyoming Legislature. She returned to the University of Wyoming for a law degree, then clerked at the Wyoming Supreme Court, and served a total of fourteen years in the Wyoming House and Senate. Cynthia was elected Wyoming State Treasurer in 1998. Cynthia continues to be involved in the daily operations of the Lummis family ranch. She and her late husband, Al Wiederspahn, have one daughter, Annaliese."I am proud to have the support of Congressman Lummis in my run for the presidency. She is a staunch supporter of conservative values, and since taking office she has fought to restore fiscal sanity, regulatory restraint and understands the importance of defending our Bill of Rights," Sen. Rand Paul said.
"Hardworking Americans are ready for a leader who will put the Federal Government in its place. As president, Rand Paul will transform our government so that it works for us. Instead of intruding on the lives of Americans, he will rein in our out-of-control bureaucrats so that everyday Americans prosper, not the Washington Machine," Congressman Lummis said. "Rand Paul will do what he says-- that I know with certainty. He believes in the right of states like Wyoming to manage their resources without Washington obstruction. Our next president must be transformative, and Rand Paul's candidacy renews for me the firm belief that America's best days are ahead."
Rand Paul, Press Release - Rand Paul for President Today Announces U.S. Congressman Cynthia Lummis (R-WY) as One of Its Western States Co-Chairman Online by Gerhard Peters and John T. Woolley, The American Presidency Project https://www.presidency.ucsb.edu/node/316845