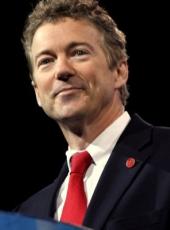 Press Release - Rand Paul for President Today Announced the Addition of Former State Representative Tom McMillin and Former Republican National Committee Member Chuck Yob as Co-Chairmen of the Michigan Grassroots Leadership Team
Rand Paul for President today announced the addition of former State Representative Tom McMillin and former Republican National committee member Chuck Yob as co-chairmen of the Michigan Grassroots Leadership Team. McMillin and Yob will join Michigan State Co-Chairman Justin Amash as key members of Rand Paul's Michigan leadership team.
This announcement comes after Sen. Paul's successful, two-day swing through the Great Lakes State. He began his trip by hosting an 'Unleash the American Dream' event in Highland Park with Mayor DeAndre Windom, followed by a breakfast with the 10th District GOP in Macomb County, and meet and greets in Flint, Dewitt, and Holland.
Former State Rep. Tom McMillin served in the Michigan House of Representatives from 2009-2014. McMillin was the chairman of the House Oversight Committee, the Joint Committee on Administrative Rules and was temporary chairman of the Education Committee. He was regularly tagged as one of the most conservative legislators in Lansing. McMillin was Mayor of Auburn Hills and served on its City Council for 9 years. He has been a Republican precinct delegate since the late 80s, has served as a GOP State Committeeman and was elected as a delegate to the 1996 and 2000 Republican National Conventions. McMillin is a CPA and currently serves as 8th District GOP Chairman of the Michigan Republican Party."I am proud to support Rand Paul for President because he is not afraid to stand up against the Washington Machine. I want a leader who will dramatically cut the size and scope of the federal government and return power back to the people. As a CPA, I support Rand Paul's 'Fair and Flat Tax' plan because I believe it will put our nation back on the road to prosperity,"
Former State Rep. Tom McMillin said. Chuck Yob is well known for his strong support from the grassroots base of the Republican Party with a history of winning tough contested conventions. He served on the Republican National Committee for 19 years and as the Co-Chairman of George W Bush for President, Co-Chairman of John McCain 2008, and Regional Political Director for Reagan for President in 1980. Yob had key roles in the election of almost every statewide Michigan Republican for the past 30 years including Governor John Engler and Governor Rick Snyder. "I am supporting Rand Paul for President because he is the strongest candidate we can nominate to defeat Hillary Clinton," Chuck Yob said. "I am honored to have the support of Former State Rep. Tom McMillin and Chuch Yob. These men are leaders within their state and within the grassroots movement. Together, we will grow the Republican party by standing for the entire Bill of Rights and by unleashing the American Dream through plans like Economic Freedom Zones and the 'Fair and Flat Tax',"Sen. Paul said.
Rand Paul, Press Release - Rand Paul for President Today Announced the Addition of Former State Representative Tom McMillin and Former Republican National Committee Member Chuck Yob as Co-Chairmen of the Michigan Grassroots Leadership Team Online by Gerhard Peters and John T. Woolley, The American Presidency Project https://www.presidency.ucsb.edu/node/316938