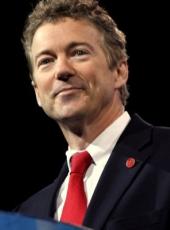 Press Release - Rand Paul for President Names Doug Wead as Senior Adviser
WASHINGTON, D.C. - Rand Paul for President today announces the addition of Doug Wead as Senior Adviser and Religious Liaison.
Doug Wead is an Indiana native, Presidential historian, New York Times bestselling author and former Special Assistant to the President in the George H.W. Bush White House. He worked on evangelical outreach with both George H.W. Bush and George W. Bush. Wead is a veteran of six presidential campaigns, most recently serving as a Senior Adviser to Ron Paul's 2012 presidential bid. Doug Wead wrote Ronald Reagan's campaign biography in 1980 and served three times with Mrs. Reagan as Co-Chairman of the bi-partisan Charity Awards Dinner. In 1988 he authored a book of interviews with George H.W. Bush. Wead is commonly credited with having coined the phrase "compassionate conservative."
"Senator Rand Paul is unlike any other Republican," says Doug Wead. "He is the only contender who beats Hillary Clinton head to head in battleground states, and I think it's because Rand Paul has real, organic support from youth, from Hispanics, from African-Americans and from Independents. Rand Paul speaks to those who care about civil liberties, criminal justice reform, ending corruption in our economy, and restoring the American Dream. I am proud to Stand with Rand as he runs for President of the United States."
"I am very grateful to have Doug Wead's endorsement and support. He is an incredibly influential conservative and evangelical leader, and I look forward to working alongside Doug to solve our nation's current moral crisis," said Sen. Rand Paul.
Rand Paul, Press Release - Rand Paul for President Names Doug Wead as Senior Adviser Online by Gerhard Peters and John T. Woolley, The American Presidency Project https://www.presidency.ucsb.edu/node/316948