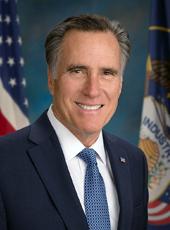 Press Release - Putting Conservative Principles To Work For the Hispanic Community
"Conservatism, Republicanism, is a philosophy of strength. We believe in a strong military, a strong economy, and in strong families and values. We believe in the American people. ... And when you need to call on the strength of America, you don't strengthen government, you strengthen the American people." - Gov. Mitt Romney (Gov. Mitt Romney, Remarks At The Young Republican National Convention, Hollywood, FL, 7/7/07)
THE ROMNEY VISION: LOWER TAXES FOR ALL AMERICANS
Gov. Romney Believes We Should Keep Taxes Low And Encourage Economic Growth:
Gov. Romney: "Raising Taxes Hurts Working People. It Stifles Innovation." (Gov. Mitt Romney, Remarks At The National Press Club, Washington, DC, 7/14/04)
- Gov. Romney: "You Don't Create Economic Prosperity By Raising Taxes." (John J. Miller, "Matinee Mitt," National Review, 6/20/05)
Gov. Romney Would Make The Bush Tax Cuts Permanent. ROMNEY: "It's absolutely critical that we don't have that massive tax hike and instead we make the Bush tax cuts permanent." (Gov. Mitt Romney, Remarks At The Detroit Economic Club, Detroit, MI, 2/7/07)
Gov. Romney Proposes Lowering Tax Rates For All Americans. ROMNEY: "We should strive to keep marginal tax rates on America's families and businesses no higher than those imposed by our major global competitors. We should end tax penalties against saving and investment, and promote fairness and simplicity by ending special interest loopholes and lowering tax rates for all Americans." (Romney For President, "Governor Romney's Remarks At The Club For Growth," Press Release, 3/29/07)
The Democrats: Higher Taxes And Slower Economic Growth
Sen. Clinton Wants To Eliminate The Bush Tax Cuts. "Joining other Democratic women senators at an event for Sen. Barbara Boxer, who's seeking re-election, Hillary Clinton told hundreds of party faithful to expect to lose some of the tax cuts passed under President George W. Bush if Democrats take control in Washington next year." (Beth Fouhy, "San Francisco Rolls Out Red Carpet For The Clintons," The Associated Press, 6/28/04)
- Sen. Clinton Would Raise Corporate Taxes, Too. SEN. HILLARY CLINTON: "Let's start holding corporate America responsible, make them pay their fair share again." (Sen. Hillary Clinton, Remarks At Campaign For America's Future Take Back America Conference, Washington, DC, 5/29/07)
Sen. Barack Obama (D-IL) Wants To "Roll Back" The Bush Tax Cuts. SEN BARACK OBAMA: "I would roll back the Bush cuts for those making over 250,000." (CNBC's "Kudlow & Company," 6/4/07)
John Edwards' New Tax Plan Nearly Doubles The Capital Gains Tax Rate To 28%. "Democratic presidential candidate John Edwards, once again seeking to drive the 2008 campaign debate within his party, will today propose raising the capital gains tax rate to 28% from 15%, and use the money to finance tax cuts for middle and lower income families." (John Harwood, "John Edwards Proposes Raising Capital-Gains Tax Rate," The Wall Street Journal, 7/26/07)
THE ROMNEY VISION: PRIVATE, MARKET-BASED HEALTH INSURANCE
Gov. Romney Believes In Private, Market-Based Health Insurance And Encouraging Personal Responsibility:
Gov. Romney's Plan Emphasizes Individual State-By-State Health Care Reform, Not Universal Health Care. "Governor Romney's health care reform plan is a comprehensive solution to America's health care ills that expands access to affordable, portable, quality, private health insurance. But rather than relying on a one-size-fits-all, government-run system, Governor Romney's plan recognizes the importance of the role of the states in leading reform and the need for innovation in dealing with rising health care costs and the problem of the uninsured." (Romney For President, "Expanding Access To Affordable Health Care," Press Release, 8/24/07)
Gov. Romney Believes That A "One-Size-Fits-All" Approach To Health Care Reform Is Wrong. "But [Gov. Romney] will also aim to reassure conservatives by saying that a 'one size fits all' solution isn't right for the 50 states. As for why he would use a different philosophy as president than as governor, they say he would have greater powers in the White House. 'Massachusetts didn't have the federal tax code to play with,' said Glenn Hubbard, a former Bush administration chief economist, now advising the Romney campaign." (Mary Jacoby and Sarah Lueck, "Romney's Federal Prescription," The Wall Street Journal, 8/24/07)
The Democrats: Higher Taxes For Government-Run Healthcare:
Sen. Clinton On Paying For Her Big Government Health Plan: "That's Going To Mean Taking Money Away From People Who Make Out Really Well Right Now." "On Saturday, she said that the failure of her proposal for universal coverage in 1994 made her more determined to achieve the goal now. 'It also makes me understand what we are up against,' Mrs. Clinton said. 'We have to modernize and reform the way we deliver health care. But we have to change the way we finance it. That's going to mean taking money away from people who make out really well right now.'" (Robert Pear, "Candidates Outline Ideas For Universal Health Care," The New York Times, 3/25/07)
Sen. Obama Would Pay For His Government-Run Health Plan By Rolling Back Tax Cuts. "Obama said his plan could save the average consumer $2,500 a year and bring health care to all. Campaign aides estimated the cost of the program at $50 billion to $65 billion a year, financed largely by eliminating tax cuts that are scheduled to expire." ("Obama Unveils Universal Health Care Plan," The Associated Press, 5/29/07)
Sen. Edwards "Would Raise Taxes" To Pay For His Health Plan. "Seven Democratic candidates for president promised Saturday to guarantee health insurance for all, but they disagreed over how to pay for it and how fast it could be achieved. ... John Edwards, the former senator from North Carolina, offered the most detailed plan for universal coverage, saying he would raise taxes to help pay the cost, which he estimated at $90 billion to $120 billion a year." (Robert Pear, "Candidates Outline Ideas For Universal Health Care," The New York Times, 3/25/07)
THE ROMNEY VISION: FREE AND FAIR TRADE
Gov. Romney Supports Free And Fair Trade:


Gov. Romney: "My growth factors include free trade. There'll be a growing clamor in this country for isolation and protectionism. ... Protectionism would virtually guarantee that America would become a second-tier economy in a couple of decades, with a second-class standard of living." (Governor Mitt Romney, Remarks At The Detroit Economic Club, Detroit, MI, 2/7/07)
- Gov. Romney: "A safe and prosperous Western Hemisphere requires a strong and democratic Colombia. ... We can and must consolidate the gains we have made in Colombia by strengthening the economic ties between our countries. The U.S. Congress must treat this vital ally with the respect Colombia deserves and move forward now with the free trade agreement." (Romney For President, "Statement On Colombia's Independence Day," Press Release, 7/20/07)
The Democrats: Protectionism At The Expense Of Our Key Allies:


Democrats Have Opposed Free Trade Deals With Latin America. "Sens. Hillary Clinton and Barack Obama and former Sen. John Edwards - who is the most isolationist of them all - have all opposed the 2005 U.S. free-trade deal with Central America and the Dominican Republic (CAFTA). And now, they are balking at crucial free-trade deals with Peru, Panama and Colombia, which are crucial for these countries. Without mentioning that free-trade deals often create more jobs than they displace, Edwards claims that free-trade agreements 'have devastated towns and communities across this country.'" (Andres Oppenheimer, "Democrats Should Be Grilled On Trade Policy," The Miami Herald, 9/6/07)
THE ROMNEY VISION: STRONGER RELATIONS WITH LATIN AMERICA
Gov. Romney Believes America Should Strengthen Our Allies, Instead Of Coddling Our Enemies:
Gov. Romney: "Last night, Senators Obama and Edwards demonstrated a dangerous naivete about the Castro Brothers and Hugo Chavez. Instead of embracing these brutal dictators, we need to work with freedom-loving people in their countries. Too many have sacrificed in the pursuit of Cuba's freedom for Barack Obama and John Edwards to abandon them now. Too many in Venezuela are working to reverse the dangerous course Chavez has embarked on. We must be steadfast in our vision of a free and democratic Cuba and Venezuela." (Romney For President, "Statement On Democratic Debate," Press Release, 7/24/07)
Gov. Romney Has Proposed A Seven-Point Latin American Strategy. "It is time for the United States to adopt a Latin American strategy that will strengthen human rights and freedom, that will advance our own interests, and that will weaken the threat of the Castros and Chavez. I propose seven elements in this strategy." (Governor Mitt Romney, Remarks At The Miami-Dade Lincoln Day Dinner, Miami, FL, 3/9/07)
- To Read Governor Romney's Latin America Strategy, Please Click Here.
The Democrats: Coddling Castro, Chavez And Other Dictators:
Sen. Obama Said That He Would Meet With Castro And Chavez Among Other Dictators. "During a nationally televised debate, Obama responded to a hypothetical question: 'Would you be willing to meet separately, without precondition, during the first year of your administration, in Washington or anywhere else, with the leaders of Iran, Syria, Venezuela, Cuba and North Korea, in order to bridge the gap that divides our countries?' The senator from Illinois responded: 'I would, and the reason is this: the notion that somehow not talking to countries is somehow punishing them, which has been the guiding diplomatic principle of this administration, is ridiculous.'" (Beth Reinhard, "Obama, Edwards Say They Would Meet With Castro, Chavez," The Miami Herald, 7/24/07)
Former Sen. Edwards Suggests He Would Meet With Castro And Chavez. "The question was then posed to Edwards, who said, 'Yes, I think Senator Clinton is right, though. Before that meeting takes place, we need to do the work, the diplomacy to make sure the meeting is not going to be used for propaganda purposes.'" (Beth Reinhard, "Obama, Edwards Say They Would Meet With Castro, Chavez," The Miami Herald, 7/24/07)
THE ROMNEY VISION: PROMOTING A CULTURE OF LIFE
Gov. Romney Will Defend The Sanctity Of Human Life:
Gov. Mitt Romney: "I am pro-life. I believe that abortion is the wrong choice except in cases of incest, rape, and to save the life of the mother. I wish the people of America agreed, and that the laws of our nation could reflect that view." (Gov. Mitt Romney, Op-Ed, "Why I Vetoed Contraception Bill," The Boston Globe, 7/26/05)
- Gov. Romney Vetoed Legislation That Would Have Provided For The "Morning After Pill" Without A Prescription. (Gov. Mitt Romney, Op-Ed, "Why I Vetoed The Contraception Bill," The Boston Globe, 7/26/05)
- Gov. Romney Vetoed Legislation That Would Have Changed The Longstanding Definition Of The Beginning Of Human Life From Fertilization To Implantation. (Gov. Mitt Romney, Letter To The Massachusetts State Senate And House Of Representatives, 5/12/05)
- Gov. Romney Promoted Abstinence Education In The Classroom. (Office Of Gov. Mitt Romney, "Romney Announces Award Of Abstinence Education Contract," Press Release, 4/20/06)
- Gov. Romney Supports Parental Notification Laws And Opposed Efforts To Weaken Them. (John McElhenny, "O'Brien And Romney Spar In Last Debate Before Election," The Associated Press, 10/29/02)
Gov. Romney Praised The Decision Upholding A Partial-Birth Abortion Ban. "Today, our nation's highest court reaffirmed the value of life in America by upholding a ban on a practice that offends basic human decency. This decision represents a step forward in protecting the weakest and most innocent among us." (Gov. Mitt Romney, "Statement On Supreme Court's Partial Birth Abortion Ruling," Press Release, 4/18/07)
The Democrats: Choosing Abortion, Even Condemning The Supreme Court's Decision Upholding A Partial Birth Abortion Ban:
Sen. Clinton Decried The Supreme Court's Gonzalez V. Carhart Decision, Calling It An "Erosion Of... Constitutional Rights." (Sen. Hillary Rodham Clinton, "Statement Of Senator Hillary Rodham Clinton On Supreme Court's Gonzales v. Carhart Decision," Press Release, 4/18/07)
Sen. Obama: "I Strongly Disagree With Today's Supreme Court Ruling, Which Dramatically Departs From Previous Precedents Safeguarding The Health Of Pregnant Women." (Klaus Marre, "Giuliani Joins GOP Praise For Abortion Decision," The Hill, 4/18/07)
Sen. Edwards: "I Could Not Disagree More Strongly With Today's Supreme Court Decision." (John Edwards For President, "Edwards Statement On Supreme Court Ruling On Federal Abortion Ban," Press Release, 4/18/07)
Mitt Romney, Press Release - Putting Conservative Principles To Work For the Hispanic Community Online by Gerhard Peters and John T. Woolley, The American Presidency Project https://www.presidency.ucsb.edu/node/296103