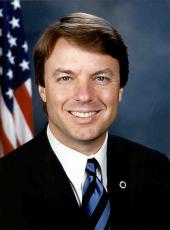 Press Release - Prominent Latinos Endorse Edwards For President
Chapel Hill, North Carolina – The John Edwards for President campaign announced today that numerous Latino elected officials and community leaders are endorsing Senator John Edwards for president. Latino leaders supporting Edwards include U.S. Representatives Raul Grijalva (AZ) and Charlie Gonzalez (TX), and former New Mexico Attorney General Patricia Madrid, Texas Mexican American Legislative Caucus Vice-Chair Trey Martinez Fischer and former Mexican American Legal Defense and Education Fund Chair Frank Herrera, Jr.
"I am proud to have the support of these prominent leaders," said Edwards. "Too many Americans today are separated from the opportunities of this country, but working together, we can build One America where all people have the chance to work hard and get ahead. We can guarantee health care for every man, woman and child in this country, eliminate poverty and protect the right to organize, and ensure that future generations have the same opportunities to succeed that I've had."
These leaders are supporting Edwards because of his vision to build One America, where every person has the chance to succeed regardless of race, gender or income. Edwards has proposed bold policies to lift up Latino communities. He has proposed a truly universal health care plan, which would cover every man, woman and child in American, including the one out of every three Latinos who lack coverage. Edwards also has detailed plans to end poverty in America, expand our middle class and strengthen our education system.
"I strongly believe that John Edwards is the right man for the Democrats to nominate for the White House in 2008," said Grijalva. "He has shown principled leadership on the way in Iraq and on economic opportunity in America."
"John Edwards and I share a commitment to improving the lives of working families," said Gonzalez. "He understands, as I do, that the key to economic development is making sure that our society honors and rewards hard work. Any American who is willing to work hard should have the opportunity to create a better life for his or her family, and John Edwards has spent his life fighting to make this happen."
"I am proud to endorse my friend, Senator John Edwards," said Madrid, the first Hispanic woman ever elected to the position of state Attorney General. "He has always fought for real change in women's lives—working tirelessly to raise the minimum wage, end poverty and guarantee universal health care."
"The issues that John Edwards cares most passionately about and talks about everywhere he goes -- eliminating poverty, creating economic opportunities, bringing about universal health care, raising the minimum wage, and making the dream of home ownership more accessible to all Americans – are kitchen table issues for Latino families everywhere in this country," said Rep. Martinez Fischer.
Latino leaders endorsing Edwards include:
U.S. Representative Raul Grijalva (AZ)
U.S. Representative Charlie Gonzalez (TX)
Former New Mexico Attorney General Patricia Madrid
Vice Chair of the Texas Mexican American Legislative Caucus State Representative Trey Martinez Fischer
Former Chair of the Mexican American Legal Defense and Education Fund Frank Herrera Jr. (TX) * (for identification purposes only)
President of Unidos of Iowa Lena Avila Robinson
President of Quad City Mexican American Organization Celia Rangel
Latino PAC Board Member Jorge Herrera
Former Chief of Staff to Orlando Mayor Jose Fernandez
Maryland Assembly Delegate Victor Ramirez
Former Deputy Assistant Secretary for Clinton Interior Department Theresa Trujeque
California State Assemblyman Pedro Nava
UNLV Assistant Professor at the Boyd School of Law Robert Correales
Texas Community Leader Enrique Moreno
Florida Community Leader Mayra Uribe
Missouri State Representative Mike Talboy
Treasurer and Secretary of the Florida Hispanic Democratic Caucus George Muniz
California State Senator Gloria Negrette- McLeod
Washington D.C. Community Leader Sylvia Trujillo
Director of Hispanic Outreach and Base vote in Central Florida for Kerry/Edwards 2004 Javier Cuebas
Former DNC Hispanic Media Director Melissa Diaz
CEO of Que Pasa Media Jose A. Isasi (NC)
Texas State Representative Joe Farias
Former Counsel to Solicitor for Clinton Administration Labor Department Geronimo Rodriguez
Carboro Alderman John Herrera (NC)
Rhode Island Community Leader Angel Taveras
Former Albuquerque City Vice President Miguel Gomez
Former U.S. Student Association President Eddy Morales
Young Democrats of Puerto Rico National Committeeman Philip Aroyo
---
Prominentes Latinos Endosan A Edwards Para Presidente
Chapel Hill, Carolina del Norte – La campaña de John Edwards para Presidente anunció hoy que numerosos oficiales electos y líderes comunitarios latinos están apoyando al senador John Edwards para presidente. Los líderes latinos que apoyan a Edwards incluyen a los congresistas Raúl Grijalva (AZ) y Charlie González (TX), la ex procuradora general de Nuevo México Patricia Madrid, el vicepresidente del Caucus Legislativo México-Americano de Texas Trey Martínez Fischer y el ex presidente del Fondo México-Americano para la Defensa Legal y la Educación Frank Herrera, hijo.
"Estoy orgulloso de tener el apoyo de estos prominentes líderes", dijo Edwards. "Demasiadas personas en Estados Unidos están separadas de las oportunidades de este país, pero trabajando juntos podemos construir un Estados Unidos donde la gente tenga la oportunidad de trabajar duro y salir adelante. Nosotros podemos garantizar cuidado de salud para cada hombre, mujer y niño en este país, eliminar la pobreza y proteger el derecho a organizarse en una unión o sindicato, y asegurar que las futuras generaciones tengan las mismas oportunidades para tener el xC3xA9xito que yo he tenido."
Estos líderes apoyan a Edwards debido a su visión para construir un sólo Estados Unidos, donde cada persona tenga la oportunidad de tener éxito independientemente de su raza, género o ingreso económico. Edwards ha propuesto audaces políticas públicas para ayudar a las comunidades latinas. Ha propuesto un plan universal de cuidado de salud, que cubrirá a cada hombre, mujer y niño en Estados Unidos, incluyendo a uno de cada tres latinos que carecen de cobertura. Edwards también tiene planes detallados para terminar con la pobreza en los Estados Unidos, expandir nuestra clase media y fortalecer nuestro sistema educativo.
"Creo firmemente que John Edwards es el hombre correcto para ser el candidato demócrata para la Casa Blanca en el 2008", dijo Grijalva. "Ha mostrado un liderazgo con principios en los temas de Iraq y la oportunidad económica en los Estados Unidos."
"John Edwards y yo compartimos un compromiso de mejorar las vidas de las familias trabajadoras", dijo González. "Él entiende, al igual que yo que la clave para el desarrollo económico es asegurar que nuestra sociedad honra y recompense el trabajo duro. Cualquier persona en los Estados Unidos que esté dispuesta a trabajar duro debe tener la oportunidad de crear una mejor vida para su familia y John Edwards ha luchado durante toda su vida para que esto sea posible."
"Estoy orgullosa de apoyar a mi amigo, el senador John Edwards", señaló Madrid, la primera hispana elegida a la posición de procuradora general de un estado. "Siempre ha luchado por un cambio real en las vidas de las mujeres, trabajando incansablemente para aumentar el salario mínimo, terminar la pobreza y garantizar cuidado universal de salud."
"Los asuntos que más le preocupan a John Edwards y de los cuales habla dondequiera que va, eliminar la pobreza, crear oportunidades educativas, brindar cuidado universal de salud, aumentar el salario mínimo y hacer el sueño de tener su propia vivienda más accesible a todos en Estados Unidos, son asuntos primordiales para las familias latinas en este país", dijo Rep. Martinez Fischer.
Los líderes latinos que apoyan a Edwards incluyen:
Congresista Raúl Grijalva (AZ)
Congresista Charlie González (TX)
Ex procuradora general de Nuevo México Patricia Madrid
Vicepresidente del Caucus Legislativo México-Americano de Texas Trey Martínez Fischer
Ex presidente del Fondo México-Americano para la Defensa Legal y la Educación Frank Herrera, hijo. (TX) * (para propósitos de identificación solamente)
Presidenta de Unidos con Iowa Lena Ávila Robinson
Presidente de la Organización México-Americana de Quad City Celia Rangel
Miembro de la Junta de Directores de Latino Leadership PAC Jorge Herrera
Ex jefe de personal del alcalde de Orlando José Fernández
Delegado de la Asamblea Estatal de Maryland Víctor Ramírez
Ex subsecretaria auxiliar del Departamento del Interior en la Administración Clinton, Theresa Trujeque
Asambleísta estatal de California Pedro Nava
Profesor Asistente (Escuela de Derecho, Universidad de Nevada Las Vegas) Roberto Correales
Líder comunitario de Texas Enrique Moreno
Líder comunitaria de Florida Mayra Uribe
Representante estatal de Missouri Mike Talboy
Tesorero y Secretario del Caucus Demócrata Hispano de Florida George Muñiz
Senadora Estatal de California Gloria Negrette- McLeod
Líder comunitaria de Washington D.C. Sylvia Trujillo
Director de Esfuerzos de Voto Hispano en la Florida Central Florida para la campaña Kerry/Edwards 2004 Javier Cuebas
Ex Directora de Medios Hispanos del Comité Demócrata Nacional en el 2004 Melisa Díaz
Principal oficial ejecutivo (CEO) de Qué Pasa Media José A. Isasi (NC)
Representante estatal de Texas Joe Farias
Ex asesor del Departamento del Trabajo en la Administración Clinton Gerónimo Rodríguez
Concejal de Carboro John Herrera (NC)
Líder comunitario de Rhode Island Ángel Taveras
Ex vicepresidente de la ciudad de Albuquerque Miguel Gómez
Ex presidente de la Asociación de Estudiantes de Estados Unidos Eddy Morales
Ex Representante Nacional, Jóvenes Demócratas de Puerto Rico Philip Arroyo
John Edwards, Press Release - Prominent Latinos Endorse Edwards For President Online by Gerhard Peters and John T. Woolley, The American Presidency Project https://www.presidency.ucsb.edu/node/293731