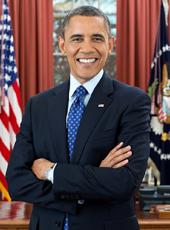 Press Release: President-Elect Obama and Vice President-Elect Biden Announce Key White House Staff
Washington – President-Elect Obama and Vice President-Elect Biden today announced the following White House staff: Patrick Gaspard, Director of the Office of Political Affairs; Jackie Norris, Chief of Staff to the First Lady; Catherine (Cathy) M. Russell, Chief of Staff for Dr. Jill Biden; Cynthia Hogan, Counsel to the Vice President; and Moises (Moe) V. Vela, Jr., Director of Administration for the Office of the Vice President.
President-elect Barack Obama said, "This group of public servants will bring decades of expertise to my administration, and I'll rely on their counsel and hard work as we fix our struggling economy and meet the great challenges of our time. Vice President-elect Biden and I look forward to continuing our work with these outstanding individuals who have dedicated their careers to a better America."
Vice President-elect Joe Biden said, "These individuals all possess incredible integrity and an unmatched commitment to public service. Cathy Russell has a unique blend of policy and management experience, combined with an ardent commitment to ending injustices around the world. Cynthia Hogan is a brilliant lawyer who was instrumental in guiding the Senate Judiciary Committee though some of its most important challenges in both crime control and judicial selection, and has shown incredible legal acumen and integrity over her career. I'm grateful to have Moe Vela, a man with experience in White House management and broad outreach skills on my team. Their combined experience, diverse leadership and esteemed counsel will be essential in helping the Obama-Biden Administration bring the change we need to America."
The White House Staff Announcements are below:
Patrick Gaspard, Director of the Office of Political Affairs

Gaspard currently serves as the Associate Director of Personnel for the Presidential Transition Team and served as National Political Director for Obama's presidential campaign. Previously, Gaspard served as the Executive Vice President of Politics and Legislation for Local 1199 SEIU, United Healthcare Workers East, the largest local union in America, where he helped coordinate political activity and government relations on behalf of 300,000 members. In 2006, Gaspard served as the acting political director for SEIU International during the national union's successful effort to help Democrats capture majorities in the House and Senate. In 2004, Gaspard was the National Field Director for America Coming Together. Gaspard worked for Governor Howard Dean's presidential campaign and numerous congressional candidates, and campaigns going back to the historic Mayoral election in New York in 1989. Gaspard is a former community organizer around school reform issues. He is married with two children.
Jackie Norris, Chief of Staff to the First Lady

Norris joined Obama's presidential campaign in January 2007 and served as the Iowa Senior Advisor during the caucus campaign, later serving as the Iowa State Director for the successful 2008 general election campaign. Originally from Ossining, New York, Norris started her career in the office of Congresswoman Louise M. Slaughter. She later served as Vice President Al Gore's scheduler and events planner and as Director of Scheduling and Advance for HUD Secretary Andrew Cuomo. Norris served as finance director for Governor Tom Vilsack's 1998 gubernatorial campaign and as Gore's political director for the Iowa caucuses during his 2000 presidential bid. In 2002, Norris became a classroom teacher for history and government at high schools in Perry, Ames, and Johnston, Iowa. Norris, a 1992 graduate of SUNY-Geneseo, obtained secondary education teacher certification in 2002 from Iowa State University and Masters in Political Science in 2008. Norris is the 2005 award recipient of the James Madison Fellowship and serves as Vice Chair of the Planned Parenthood of Greater Iowa Freedom Fund Board. Norris and her husband John are residents of Des Moines, Iowa and have five-year-old twin boys, Hunter and Cole, and a two-year-old son, Sam.
Catherine (Cathy) M. Russell, Chief of Staff for Dr. Jill Biden

Cathy Russell is a long time advisor to Dr. Biden and advocate for the prevention of violence against women, both at home and abroad. During the 2008 Presidential campaign, Ms. Russell served as Chief of Staff for Dr. Biden. Previously, she has been a Senior Advisor to the Senate Foreign Relations Committee on international women's issues. In the Clinton Administration, she served as Associate Deputy Attorney General. On Capitol Hill, she was Staff Director of the Senate Judiciary Committee and also served as senior counsel to Sen. Patrick J. Leahy (D-VT). She received her J.D. from George Washington University.
Cynthia Hogan, Counsel to the Vice President

Cynthia Hogan has been a legal advisor to Vice President-elect Biden for nearly 20 years, first joining his staff in 1991 as his Counsel for Constitutional Law on the U.S. Senate Judiciary Committee, then as Staff Director and finally as Chief Counsel, during his tenure as Chairman. During her time working for then-Chairman Biden (1991-1996), the Committee successfully passed the landmark 1994 Violence Crime and Control Act and the Violence Against Women Act. She also advised Chairman Biden during the Supreme Court nominations process for both Justices Ruth Bader Ginsburg and Stephen Breyer. Cynthia Hogan is a native of Cincinnati, Ohio. She graduated in 1979 from Oberlin College and received a J.D. from the University of Virginia School of Law in 1984, where she served as an editor on the Virginia Law Review. She clerked for the Honorable Edward Cahn on the United States District Court for the Eastern District of Pennsylvania and was an associate at the Washington, D.C. law firm Williams & Connolly. She currently lives in Bethesda, Maryland with her husband Mark Katz and their two children.
Moises (Moe) V. Vela, Jr., Director of Administration for the Office of the Vice President

Moe Vela will bring a wealth of business management skill and outreach experience to the Obama-Biden Administration. From 1996-2000, he served as Chief Financial Officer and Senior Advisor on Hispanic Affairs for Vice President Al Gore. Most recently, Vela was the founder and a partner at The Comunidades Group, a multi-family acquisition and operations company headquartered in Denver, Colorado. Vela received a B.A. in Government from the University of Texas, a J.D. from St. Mary's Law School, and is a member of the State Bar of Texas. He currently resides in Denver, Colorado and is a Denver Civil Service Commissioner, appointed by Denver Mayor John Hickenlooper. Vela is a native of the Rio Grande Valley of Texas and hails from a pioneer South Texas family.
Barack Obama, Press Release: President-Elect Obama and Vice President-Elect Biden Announce Key White House Staff Online by Gerhard Peters and John T. Woolley, The American Presidency Project https://www.presidency.ucsb.edu/node/285398