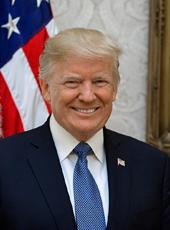 Press Release - President Donald J. Trump to Award the Medal of Honor
On October 30, 2019, President Donald J. Trump will award the Medal of Honor to Master Sergeant Matthew O. Williams, United States Army, for conspicuous gallantry while serving as a Weapons Sergeant in Support of Operation Enduring Freedom.
On April 6, 2008, while serving as a member of a Special Forces Operational Detachment Alpha 3336, Special Operations Task Force-33, assault element, then-Sergeant Williams exposed himself to insurgent fire multiple times while rescuing other members of the assault element and evacuating numerous casualties. In the face of rocket-propelled grenade, sniper, and machine gun fire, Sergeant Williams led an Afghan Commando element across a fast-moving, ice cold, and waist-deep river to fight its way up a terraced mountain to the besieged lead element of the assault force. Sergeant Williams then set up a base of fire that the enemy was not able to overcome. When his Team Sergeant was wounded by sniper fire, Sergeant Williams exposed himself to enemy fire to come to his aid and to move him down the sheer mountainside to the casualty collection point. Sergeant Williams then braved small arms fire and climbed back up the cliff to evacuate other injured soldiers and repair the team's satellite radio. He again exposed himself to enemy fire as he helped move several casualties down the near vertical mountainside and as he carried and loaded casualties on to evacuation helicopters. Sergeant Williams's actions helped save the lives of four critically wounded Soldiers and prevented the lead element of the assault force from being overrun by the enemy.
PERSONAL BACKGROUND:
Master Sergeant Williams, of Boerne, Texas, joined the United States Army on May 16, 2005. In 2008, he deployed to Afghanistan with Special Forces Operational Detachment Alpha 3336, Special Operations Task Force-33. He is still serving in the United States Army and is assigned to Fort Bragg, North Carolina. When off duty, he enjoys hunting and spending time with his wife, Kate, and their son, Nolan.
ADDITIONAL INFORMATION
The Medal of Honor is awarded to members of the Armed Forces who distinguish themselves conspicuously by gallantry and intrepidity at the risk of their own lives above and beyond the call of duty while:
engaged in an action against an enemy of the United States;
engaged in military operations involving conflict with an opposing foreign force; or
serving with friendly foreign forces engaged in an armed conflict against an opposing armed force in which the United States is not a belligerent party.
The meritorious conduct must involve great personal bravery or self-sacrifice so conspicuous as to clearly distinguish the individual above his or her comrades and must have involved risk of life. There must be incontestable proof of the performance of the meritorious conduct, and each recommendation for the award must be considered on the standard of extraordinary merit.
Donald J. Trump, Press Release - President Donald J. Trump to Award the Medal of Honor Online by Gerhard Peters and John T. Woolley, The American Presidency Project https://www.presidency.ucsb.edu/node/334910