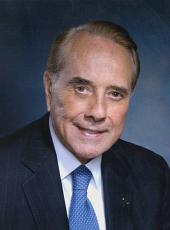 Press Release - Position Papers (from Campaign Headquarters)
REIN IN THE FEDERAL GOVERNMENT: Bob Dole believes that the federal government today is too large, too costly, and too intrusive. He has called for the elimination of four cabinet agencies: Education, HUD, Energy and Commerce. He opposed the establishment of the Corporation for Public Broadcasting as well as the National Endowments for the Arts and Humanities and supports their elimination. By introducing the Comprehensive Regulatory Reform Act earlier this year, Bob Dole has led the effort to streamline costly regulations. Bob Dole has also stood up for private property owners, by introducing legislation that will provide additional protections against unnecessary and unjustified government takings.
BALANCE THE BUDGET: A strong fiscal conservative, Bob Dole first co-sponsored a Balanced Budget Amendment to the Constitution in 1971. He has been a consistent advocate of the line-item veto. Bob Dole remains concerned that the federal government is mortgaging away our children's future with Government debt. He was instrumental this year in passing an historic budget plan that eliminates the deficit within 7 years and provides substantial tax relief for American families.
RADICALLY REFORM OUR TAX SYSTEM: Bob Dole wants a fairer, flatter simpler tax system so people can fill out their tax returns without a lawyer, an accountant, or both. He will end the IRS as we know it, and curb its abuses of taxpayers. And he supports a Constitutional Amendment requiring a 60% majority in Congress to raise income tax rates.
REDUCE TAX BURDEN ON MIDDLE CLASS FAMILIES: Bob Dole is a leading advocate of family tax relief, such as a $ 500 per child tax credit, "marriage penalty' relief, adoption tax credits, IRAs for homemakers, and easing the estate tax burden on family businesses. Bob Dole has signed the Americans for Tax Reform "Taxpayer Protection Pledge," which calls for no increases in income tax rates. Furthermore, Senator Dole led the fight against the 1993 Clinton tax bill, the largest tax increase in history.
SUPPORT RELIGIOUS FREEDOM- Throughout his career, Bob Dole has been a strong and consistent supporter of student-led voluntary school prayer. His support goes back as far as 1967 when he first supported a voluntary school prayer amendment to the Constitution. He has opposed attempts to restrict religious discussion in the workplace and supported the historic Religious Freedom Restoration Act, which protects individual religious liberty from government intrusion.
GET TOUGH ON CRIME: When it comes to fighting crime, Bob Dole believes that victims must come first, punishment must be swift and certain, and the focus should be on criminals, not law-abiding citizens. Bob Dole has been a consistent proponent of the death penalty. He supports the abolition of parole for violent offenders. He believes that teenagers who commit violent crimes should be prosecuted as adults. He has been a leader in the effort to combat violence against women. And earlier this year, he led the fight to limit abuse of the appeals process by convicted criminals by securing passage of comprehensive habeas corpus reform. As President, Bob Dole will also appoint federal judges who will be tough on crime and criminals.
OVERHAUL THE WELFARE SYSTEM: Bob Dole is leading the effort to radically overhaul our nation's failed welfare system. His reform plan, passed overwhelmingly by the Senate earlier this year, proposes deep cuts in the federal welfare bureaucracy and gives states the flexibility they need to craft innovative programs to move people from welfare to work. Bob Dole also understands that welfare should not be a free ride. That's why his reform plan requires recipients to work and insists that single teen parents receiving assistance stay in school and live under adult supervision. Confronting the crisis of illegitimacy, Bob Dole"s reform plan provides for abstinence education and offers a financial incentive to those states that reduce the out- of wedlock birthrate without increasing the number of abortions.
SUPPORT EQUAL, OPPOSE PREFERENCES: Bob Dole opposes quotas, set- asides and other preferences that favor individuals simply because they belong to a particular group. He supports steps to remedy proven past discrimination against specific individuals and supports efforts to recruit qualified women and minorities, so long as these efforts do not resort to preferences. Senator Dole introduced legislation that would end the federal government's practice of giving preferences to individuals because they happen to belong to a particular group.
SHAME THOSE WHO PUT PROFIT OVER DECENCY- Bob Dole demonstrated courage and leadership by taking on Hollywood in its own backyard. His accusations that the entertainment industry was undermining the character of America stirred public debate. Bob Dole is right. Shame is a powerful weapon.
FIGHT ILLEGAL IMMIGRATION TO PRESERVE LEGAL IMMIGRATION: Bob Dole doesn't believe that those who have entered our country illegally are entitled to Government welfare services. He supports strengthening the Border Patrol aggressive enforcement of the laws expediting the deportation of criminal aliens, and lining the deportation process for all illegal aliens.
SUPPORT AMERICAN INTERESTS: Bob Dole believes American policy should support the interests of the United States - not the interests of the United Nations - and opposes placing American troops under U.N. command. He will ensure that America remains the world's only superpower, willing and able to defend American interests.
STRENGTHEN AMERICAN'S DEFENSE: Bob Dole believes the mission of the American military is to defend our freedom and protect our interests. America must lead and leadership requires the most capable, most advanced, and the best trained military in the world. Readiness for today's challenges, and readiness to deter or defeat challenges in the future, require an enduring commitment to American military strength.
COMMON SENSE CONSERVATIVE
Recognized as one of our nation's foremost political figures, Senator Bob Dole has a distinguished record of public service that has made a difference for America.
As a wounded and decorated combat veteran of World War II, Bob Dole grew up on the plains of western Kansas. This common sense conservative from America's heartland has unparalleled experience as the present Senate Majority Leader and having been Chairman of the Senate Finance Committee, a candidate for President his party's nominee for Vice President, a member of the House of Representatives, the Chairman of the Republican Party, a state legislator, and a county attorney.
LEADERSHIP
President Reagan said of Senator Dole that "His title of Leader is not just a job title, it's a description of the man." President Bush went on to call Senator Dole "a great Republican Leader, as great as any in the past." Bob Dole is only one of 15 Americans ever to serve as Senate Majority Leader, and his first stint in that position in the mid-1980's won national praise. The Congressional Quarterly cited Senator Dole as having "proved a point that badly needed proving at the time. The Senate could be led."
Senator Dole's effectiveness as a consensus-builder and his commitment to both deficit reduction and economic growth have earned him accolades form his peers -- Republicans, Independents, and Democrats alike. On issue after issue, Senator Dole is a statesman who has made his mark. A survey conducted by the Des Moines Register concluded that Senator Dole is "easily (America's) most influential maker of farm policy." Senator Dole has earned national praise for his leadership on behalf of the disadvantaged and Americans with disabilities, and for his mastery of foreign affairs.
SACRIFICE
During World War II, Bob Dole was a platoon leader in the legendary Tenth Mountain Division in Italy. He was gravely wounded on the battlefield in 1945 and twice decorated for heroic achievement. His decorations include two Purple Hearts and a Bronze Star with Oakleaf Cluster.
FAMILY
Senator Dole was born in Russell, Kansas, and is married to Elizabeth Hanford Dole who is on a leave of absence from her job as President of the American Red Cross. Senator Dole also has a daughter, Robin, who resides in Washington, DC.
Robert Dole, Press Release - Position Papers (from Campaign Headquarters) Online by Gerhard Peters and John T. Woolley, The American Presidency Project https://www.presidency.ucsb.edu/node/315915