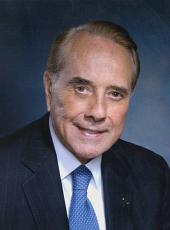 Press Release - Polls Shows 65% of Small Business Owners Support Dole/Kemp
A New York Times/CBS News survey of business executives across the country published today shows an overwhelming 65% support the Dole-Kemp presidential ticket. An anemic 25% of business leaders expressed support for Bill Clinton in the survey.
Some key data from the New York Times/CBS News Poll:
* 63% of the executives surveyed indicated that a Bob Dole presidency would result in more growth, 26% said a second Bill Clinton term would.
* 71% said Bob Dole would do a better job reducing the deficit, 18% said Bill Clinton would. 64% believe Bob Dole "would do a better job handling conflicts with trading partners," 26% said Bill Clinton would.
* 52% support Bob Dole's 15% cut in the federal income tax as good for the country.
"This news comes as no surprise to the business community, " said Dirk Van Dongen, National Co-Chair of the Dole/Kemp National Business Coalition and President of the National Association of Wholesaler- Distributors. "Business people know that Bob Dole is the only candidate with a vision that will lead this country to real, sustainable and most importantly strong economic growth.
"Bill Clinton has had four years to sell the American business person on his economic leadership and he couldn't close the deal. The Dole/Kemp plan to cut individual income taxes 15 coupled with a 50% reduction in the capital gains tax, along with regulatory and lawsuit reform will die catalyst that will unlock the ultimate potential of American business.
Robert Dole, Press Release - Polls Shows 65% of Small Business Owners Support Dole/Kemp Online by Gerhard Peters and John T. Woolley, The American Presidency Project https://www.presidency.ucsb.edu/node/315767