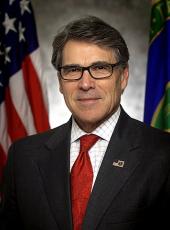 Press Release - Perry: Responsible Policies, Not Luck, Will Get America Working Again
Takes Presidential Campaign Trail to New Hampshire; Criticizes President Obama's Excuses for Struggling Economy
BEDFORD, NH — Texas Gov. Rick Perry today took his campaign for president to New Hampshire where he called on President Obama to stop making excuses about the economy and emphasized the importance of empowering the private sector as the key to stimulating the economy. He also reiterated his call to put a freeze on new federal mandates for six months in an effort to free small businesses to create jobs. "Our economic plan shouldn't depend on luck, it should depend on sound economic fundamentals," Gov. Perry said. "President Obama's policies, which he claims 'reversed the recession,' actually increased unemployment, exploded the debt and led to the first downgrade of credit in the history of our nation."
The governor added, "The president said yesterday I needed to watch what I say. But actions speak louder than words and my actions as governor are helping create jobs, while the president's tax and regulation policies are killing jobs."
Gov. Perry reiterated the importance of promoting policies based on restrained spending, low taxes, reasonable and predictable regulations and a fair legal system, crediting these priorities as the foundation of Texas' successful job creation. Under the governor's leadership of Texas, the state is responsible for 40 percent of net new jobs created since June 2009 and the unemployment rate remains well below the national average. In contrast, under President Obama, America has lost 2.5 million jobs, unemployment has gone up and there are one in six work-eligible Americans that cannot find a full-time job.
As president, Gov. Perry has pledged to get the federal government's fiscal house in order, simplify and limit taxes, restore the country's good credit, and repeal Obama's misguided one-size-fits-all, government-run health care plan. He is also committed to holding government accountable to the taxpayers, and adhering to the fiscally responsible principles that will lead to job creation, and in turn, wealth, while educating and innovating in science, technology, engineering and math to create the jobs and progress needed to get America working again.
Rick Perry, Press Release - Perry: Responsible Policies, Not Luck, Will Get America Working Again Online by Gerhard Peters and John T. Woolley, The American Presidency Project https://www.presidency.ucsb.edu/node/297646