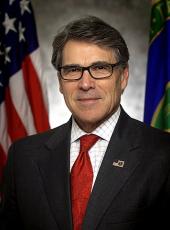 Press Release - Perry: Proposed Federal Building Codes Will Hurt Job Creation, Home Prices, Homebuilders and Homeowners
Takes presidential campaign across New Hampshire; Renews call for temporary freeze of federal regulations
PEMBROKE, NH — Texas Gov. Rick Perry today took his presidential campaign to Epoch Homes in Pembroke, New Hampshire. He toured the facility and took questions from employees, renewing his call for a six-month freeze on federal regulations. Additionally, he specifically criticized proposed federal mandates being considered by the U.S. Senate that would enable federal takeover of local building codes.
"If there's one area that government needs to get out of the way, it's in regulation," said Gov. Perry. "With too many American homeowners and homebuilders financially strapped, these proposed federal building codes will hurt job creation, home prices, homebuilders and homeowners. The federal government has no business federalizing local building or energy efficiency guidelines and costing America jobs in the process."
Like many Washington regulations, this housing mandate, proposed by New Hampshire's own Sen. Jean Shaheen, gives little or no consideration to likely increases in the cost of a home. If passed, federal regulators at the Department of Energy would be allowed to take over the local building codes if they decide the private sector isn't meeting federal mandates fast enough.
The governor noted that in 2010, the Obama Administration implemented 43 new regulations that cost U.S. businesses more than $26 billion. These are the types of actions that prove how out of touch this administration is with hardworking Americans. If employers didn't have to spend that money dealing with government red tape, they could have instead created 650,000 new jobs that pay $40,000 per year.
Gov. Perry reiterated the importance of promoting policies based on restrained spending, low taxes, reasonable and predictable regulations and a fair legal system, crediting these priorities as the foundation of Texas' successful job creation. Under the governor's leadership of Texas, the state is responsible for 40 percent of net new jobs created since June 2009 and the unemployment rate remains well below the national average. In contrast, under President Obama, America has lost 2.5 million jobs, unemployment has gone up and there are one in six work-eligible Americans that cannot find a full-time job.
As president, Gov. Perry has pledged to get the federal government's fiscal house in order, simplify and limit taxes, restore the country's good credit, and repeal Obama's misguided one-size-fits-all, government-run health care plan. He is also committed to holding government accountable to the taxpayers, and adhering to the fiscally responsible principles that will lead to job creation, and in turn, wealth, while educating and innovating in science, technology, engineering and math to create the jobs and progress needed to get America working again.
Rick Perry, Press Release - Perry: Proposed Federal Building Codes Will Hurt Job Creation, Home Prices, Homebuilders and Homeowners Online by Gerhard Peters and John T. Woolley, The American Presidency Project https://www.presidency.ucsb.edu/node/297654