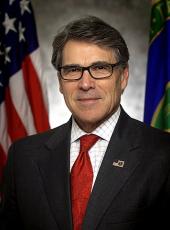 Press Release - Perry: Obama Administration Should Impose Freeze on New Federal Regulations
Perry Visits Iowa State Fairgrounds
DES MOINES, IOWA — Texas Gov. Rick Perry today called on the Obama Administration to put a six-month freeze on new federal regulations in an effort to ease the burden on small businesses that continue to struggle under President Obama's job-killing economic policies. The governor's call was made at a campaign stop at the Iowa State Fairgrounds, where he also highlighted his record of job creation in Texas and the importance of pursuing policies that will open doors to job growth and get America working again.
"It is hard enough for small businesses to keep their doors open under this Administration's failed economic experiment, and the last thing employers need is additional regulations that kill jobs," said Gov. Perry. "While the president issues executive orders to study what regulations harm business, I believe we need immediate action, not bureaucratic studies. So, starting today, the president should put a six-month freeze on all pending federal regulations. The Department of Labor, the EPA and hosts of other federal agencies have already done enough damage. Let's give small businesses a reprieve from burdensome regulations."
The governor added, "Our nation cannot and must not endure four more years of rising unemployment, rising taxes and rising debt. The greatest threat to our economy is a President trying to spend our way out of our economic spiral."
Under President Obama, America has lost 2.5 million jobs, unemployment has gone up and there are one in six work-eligible Americans that cannot find a full time job. In contrast, under Gov. Perry's leadership of Texas, the state is responsible for 40 percent of net new jobs created since June 2009 and the unemployment rate remains well below the national average.
Gov. Perry noted that President Obama is scheduled to visit the Iowa State Fairgrounds on Monday, underscoring that after a failed stimulus package and the first ever downgrading of our nation's credit, Iowans and all Americans deserve the right to know the president's plan to stop the record deficit spending and restore our nation's good credit.
As president, Gov. Perry has pledged to get the federal government's fiscal house in order, simplify and limit taxes, restore the country's good credit, and repeal Obama's misguided one-size-fits-all, government-run health care plan. He also committed to holding government accountable to the taxpayers, and adhering to the fiscally responsible principles that will lead to job creation, and in turn, wealth, while educating and innovating in science, technology, engineering and math to create the jobs and progress needed to get America working again.
"I will work every day to make Washington, D.C. as inconsequential in your lives as I can, and free our families, small businesses and states from a burdensome and costly federal government so they can create, innovate and succeed," he continued. "With the help and courage of the American people, we will get our country working again."
Rick Perry, Press Release - Perry: Obama Administration Should Impose Freeze on New Federal Regulations Online by Gerhard Peters and John T. Woolley, The American Presidency Project https://www.presidency.ucsb.edu/node/297780