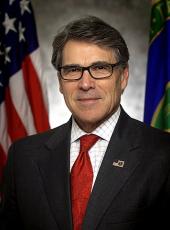 Press Release - Perry: Americans Need Work, Not Symbolism; We Need New Jobs, Not New Agencies
Criticizes Obama Proposal to Create Jobs Agency; Pledges to Get America Working Again
CEDAR RAPIDS, IOWA — Texas Gov. Rick Perry today visited Cedar Rapids, Iowa where he criticized President Obama's proposal to create a new jobs agency as a solution to economic recovery. He also reiterated his call for the Administration to issue a six-month freeze on new regulations to help free employers to create more jobs for Americans.
"What is this president's plan to fix the economy? Apparently to create a new jobs agency," Gov. Perry said. "Mr. President, we have tried two and a half years of government creating jobs, it's time to let the private sector get to work. Americans need work, not symbolism. We need new jobs, not new agencies. If you want to create jobs, don't create a new agency, and stop all the unnecessary regulations of the agencies you already control."
Gov. Perry highlighted the healthy jobs climate in Texas, where more than 40 percent of the nation's net new jobs have been created since June 2009. He noted the key to creating economic prosperity is upholding policies based on fiscal restraint, low taxes, reasonable and predictable regulations, and a fair legal system. In contrast, under President Obama, America has lost 2.5 million jobs, unemployment has gone up and there are one in six work-eligible Americans that cannot find a full time job.
As president, Gov. Perry has pledged to get the federal government's fiscal house in order, simplify and limit taxes, restore the country's good credit, and repeal Obama's misguided one-size-fits-all, government-run health care plan. He also committed to holding government accountable to the taxpayers, and adhering to the fiscally responsible principles that will lead to job creation, and in turn, wealth, while educating and innovating in science, technology, engineering and math to create the jobs and progress needed to get America working again.
Rick Perry, Press Release - Perry: Americans Need Work, Not Symbolism; We Need New Jobs, Not New Agencies Online by Gerhard Peters and John T. Woolley, The American Presidency Project https://www.presidency.ucsb.edu/node/297905