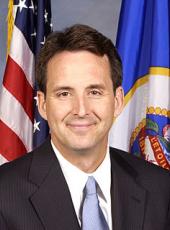 Press Release - Pawlenty for President Announces Iowa Steering Committee Members
Seven grassroots Republican leaders, including Dallas County Recorder Chad Airhart, have joined Pawlenty for President's Iowa steering committee.
The group includes Airhart, Fayette County GOP Chair Jim Kirkpatrick, Des Moines attorneys Brian Rickert and William Gustoff, former Mike Huckabee aide Aubrie Johnson, former Iowa GOP Victory program treasurer Mark Havlicek and Des Moines businessman Nick Gerhart.
"In Tim Pawlenty I see a man who isn't afraid to take on the serious challenges facing America. But more than talk, he has actually taken on many of these issues while serving as the governor of Minnesota," Airhart said. "He applied common sense conservative principles to government in Minnesota and moved his state in the right direction. Beyond his conservative record of accomplishment, I have been impressed by Gov. Tim Pawlenty's personal story. I know he understands the problems facing the average American, and I am confident that his solutions will help Americans across the spectrum move closer to achieving the American dream."
Airhart, a former director of the Waukee Area Chamber of Commerce who was named one of central Iowa's Forty Under 40 business leaders, defeated a 22-year incumbent in 2010 to become the Dallas County Recorder. Months into his first term as recorder, Airhart was elected chairman of the Iowa Republican County Officials Association. In 2003, he went to work for Victory '04, and directed 22 counties in southwest Iowa for the Bush/Cheney campaign. Months before Election Day, he was moved to manage Iowa's largest county, Polk County. In 2004, Iowa was carried by the Republican presidential nominee for the first time in 20 years. Airhart then went to work for the U.S. Congress, where he directed the Creston office of U.S. Rep. Steve King. He left that position in the summer of 2006 to work for Governor Mitt Romney's Commonwealth PAC before serving as Iowa coalition director for Romney's presidential campaign.
Kirkpatrick is the first county chair in Iowa to endorse Gov. Pawlenty for president. A certified financial planner, Kirkpatrick is a longtime veteran of Iowa politics and previously served as a Fayette County chairman for the presidential campaigns of George H.W. Bush, George W. Bush and former U.S. Fred Thompson of Tennessee. He also served as a "bus captain" for the crucial Ames Straw Poll for Mitt Romney in 2007 and George W. Bush in 1999.
Gerhart is Vice President of Compliance and Regulatory Affairs for Sammons Financial Group. Prior to entering the insurance industry, Nick was a private practice attorney focusing on corporate and health care matters. He is vice chair of the Des Moines Partnership Government Policy Council 2010-2011 and will serve as Chair 2011-2012. He serves as a state board member and public affairs director for the March of Dimes and served as Chair of March of Dimes-Central Iowa Division for two years prior to that. Gerhart is a former Polk-Des Moines Taxpayers Association board member, former treasurer for Urbandale Dollars for Scholars and a 2010 Graduate of the Des Moines Leadership Institute.
Rickert is an attorney at BrownWinick, the state's third-largest law firm. Listed in "Best Lawyers of America 2008," he serves as corporate counsel to a number of businesses across the state. He also chairs the firm's construction law practice group. A graduate of the University of Iowa with a finance degree and the Drake University Law School, Rickert is a trustee on the West Des Moines Water Works Board and a member of the Blank Park advisory board. He is a former member of the West Des Moines Development Corp., and a former officer and board member of the Salvation Army. He participated in the West Des Moines Leadership Academy, the Greater Des Moines Leadership Institute, and Leadership Iowa programs and was named one of central Iowa's top business leaders in the Forty Under 40 Program.
Havlicek has served in several key finance and technology roles for political organizations, including Iowa treasurer for Pawlenty's Freedom First PAC, finance director for the Iowa GOP Victory Program and Iowa E-Chairman for the 2004 Bush/Cheney re-election campaign. He has nearly 20 years of executive level personnel and technology initiative management experience in both public and private companies. He has been the director of project management at Berkley Technology Services in Urbandale since 2005.
Gustoff is a Des Moines attorney who advocates for educational choice, individual liberty, and accountable government. In addition to his primary role as a planning attorney consulting with nonprofit foundations and development offices, he is also a founding partner of the Whitaker Hagenow GBMG law firm and a registered lobbyist at the Iowa legislature for educational choice issues.
Johnson is the chief operating officer and office manager for the Whitaker Hagenow GBMG law firm in Des Moines. She formerly was the statewide events and operations director for Bob Vander Plaats' 2010 gubernatorial campaign. She also played a role in eight states for Mike Huckabee's 2008 presidential campaign, beginning with her efforts as a successful field coordinator in Iowa, overseeing one of three regional campaign offices in South Carolina and continuing on as a member of the national advance team. A former English teacher in Chengdu, China, Johnson also has been active in Concerned Women for America as a legislative liaison in Washington, D.C.
Tim Pawlenty, Press Release - Pawlenty for President Announces Iowa Steering Committee Members Online by Gerhard Peters and John T. Woolley, The American Presidency Project https://www.presidency.ucsb.edu/node/296648