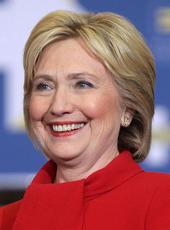 Press Release - Over 100 Iowa Women to Lead TEAM HILLARY
Statewide Women's Leadership Council Announced
DES MOINES, IA – Today, Iowans for Hillary announced the Statewide Women's Leadership Council for Team Hillary, a grassroots network of women working to make history by electing Hillary, President of the United States. Team Hillary is committed to increasing participation of women in the caucuses for Hillary Clinton.
"Through our social networks, community involvement, church groups and family ties we are determined to organize women who have attended the caucuses before and bring new women into the caucus process to support Hillary Clinton," said former Iowa Attorney General and Director of the Office of Violence Against Women, Bonnie Campbell. "Hillary Clinton has been a leading advocate for women and children in America and around the globe. We are committing our efforts to Hillary's candidacy because she has committed her life's work to helping us."
"Team Hillary is an exciting new component of my campaign in Iowa," said Senator Clinton. "I am honored to have the support and efforts of this talented and hard working group of women leaders across Iowa."
"As an educator, every day I see the impact of Hillary's work," said State Representative Mary Mascher of Iowa City. "Whether it is school lunches for low-income kids, more funding for education initiatives or making college more affordable for students, Hillary's work and dedication is impacting my community and the students I teach."
"As First Lady, Hillary became the leading advocate of universal health care," said Katie Beckett a disability rights activist of Cedar Rapids. "When the political will wasn't there for her to pass universal health care in the 90's, she didn't give up the fight. Instead she played an instrumental part in the creation of the State Children's Health Insurance Program, which today insures more than five million kids. Hillary has the experience to create the change we need in America."
Following is a list of the 105 women making up the initial Statewide Women's Leadership Council: (Titles for identification purposes only)
Jacky Adams of Red Oaks, Montgomery County; Montgomery County Activist
Marti Anderson of Des Moines, Polk County; Social Worker and Crime Victim Advocate
Staci Appel of Ackworth, Warren County; State Senator
Theresa Backham of Des Moines, Polk County; Local Activist
Regina Bailey of Iowa City, Johnson County; City Councilwoman
Katie Beckett of Cedar Rapids, Linn County; Disability Rights Activist
Rosanne Beyer of Dows, Franklin County; Mayor
Barbra Boatwright of Des Moines, Polk County; Founding Member of DAWN and Retired Social Worker
Connie Boesen of Des Moines, Polk County; Community Activist and School Board Member
Margaret Borgen of Des Moines, Polk County; Community Activist, Volunteer and Former School Board Member
Bonnie Campbell of Des Moines, Polk County; Former Attorney General, Iowa Democratic Party Chair, and Clinton Administration Appointee heading Violence Against Women Office
Mickey Carlson of Adel, Dallas County; Former Dallas County Chair
Pat Carmody of Ames, Story County; Activist
Jean Classon of Des Moines, Polk County; President of Iowa NOW
Joyce Connors of Dubuque, Dubuque County; Hills and Dales Board, Riverview Center Inc. Board, Convention Visitors Bureau
Sondy Daggett of Cedar Rapids, Linn County; Small Business Owner
Judith Dailey of Newton, Jasper County; Democratic Activist
Swati Dandekar of Marion, Linn County; State Representative
Sharon Dearden of Des Moines, Polk County; Community Activist
Suzy Drish of Fairfield, Jefferson County; Democratic Activist and Farmer
Pam Duffy of Adel, Dallas County; Activist
Bonnie Eggers of Agency, Wapello County; Labor Activist
Cindy Eisenhauer of Ankeny, Polk County; Former Chief of Staff for Governor Tom Vilsack
Mary Elgar of Mt. Pleasant, Henry County; Community Activist and Member and Former Chair of Henry County Democrats and 3rd Congressional District Central Committee
Sarah England of Iowa City, Johnson County; Professor at University of Iowa
Helen Epperson of Ottumwa, Wapello County; Political Activist
Shelly Escobedo of Fort Dodge, Webster County; Webster County Activist
Tammy Ferrell of Roland, Story County; Educator
Fran Fleck of West Des Moines, Polk County; Community Activist and Volunteer
Valentina Fominykh of Des Moines, Polk County; International Consultant and Community Activist
Cynthia Forbes of Urbandale, Polk County; Women for a Stronger America Treasurer
Patricia Foster of Dubuque, Dubuque County; Educator
Faye Fraise of Fort Madison, Lee County; Activist
Melanie Friedman of Iowa City, Johnson County; Political Activist
Lynn Graves of Des Moines, Polk County; Political Activist
Julie Haggerty of Urbandale, Polk County; Polk County Recorder
Kay Halloran of Cedar Rapids, Linn County; Mayor
Diane Hamilton of Storm Lake, Buena Vista County; Attorney and former Buena Vista County Chair
Karla Hansen of Holstein, Ida County; Healthcare Activist
Ruth Harkin of Cumming, Warren County; Business Leader, Attorney and Clinton Administration Appointee as President and CEO of the Overseas Private Investment Corporation
Sharon Haselhoff of Iowa City, Johnson County; Political Activist
Cindy Heland of Burlington, Des Moines County; Political Activist
Megan Heneke of Spirit Lake, Dickenson County; Past President of Iowa College Democrats and University of Iowa Democrats
Carmen Hernandez of Dubuque , Dubuque County; Educator
Barbra Hood of Fairfield, Jefferson County; Former Jefferson County Chair
Liz Hoskins of Cedar Rapids, Linn County; Community Activist
Cheryll Jones of Bloomfield, Davis County; Political Activist
Susan Judkins of Des Moines, Polk County; Business Leader, Community Volunteer, and President of Nexus
Theresa Kehoe of Des Moines, Polk County; Political Activist
Susan Knapp of Van Meter, Dallas County; Business Leader and Philanthropist
Kati Kregel of Fort Dodge, Webster County; Community Activist and Former Director of BVU Ft. Dodge Center
Mary Ford Krier of Ollie, Keokuk County; Business Women, Former Supervisor, Farm Activist, and Child Advocate
Vicki Lensing of Iowa City, Johnson County; State Representative
Alice Lopez of Lowden, Cedar County; Cedar County Task Force on Elderly issues
Amanda Luong of Des Moines, Polk County; Local Activist
Janet Lyness of Iowa City, Johnson County; County Attorney
Cyril Mandelbaum of West Des Moines, Polk County; Past President of Nexus and Treasurer for Des Moines Public Library Board of Directors
Mary Mascher of Iowa City, Johnson County; State Representative
Dorothy Mauro of Des Moines, Polk County; Activist
Mary McGee of Des Moines, Polk County; Attorney
Dr. Andy McGuire of Des Moines, Polk County; Former Lieutenant Governor Candidate
Juanita Mehmen of Charles City, Floyd County; Red Hat Ladies and Chaplain of the Veterans of Foreign Wars
Doreen Meier of Cedar Rapids, Linn County; Hill's Angels, Volunteer at St. Luke's Hospital, Member of Poe Chapter HJ, Volunteer at St. Paul's Methodist Church
Rocky Menke of Fort Madison, Lee County; Labor and Political Activist
Mary Mincer Hansen of Panora, Guthrie County; Former Director of the Iowa Public Health Department
Juanita Moreno of Glenwood, Mills County; Activist
Vi Neil of La Porte City, Black Hawk County; Activist
Patsy Olejniczak of Fort Dodge, Webster County; Webster County Coordinator, Iowans for Hillary
Linda Olson of Marengo, Iowa County; Activist
Jean Oxley of Cedar Rapids, Linn County; First Woman on the Linn County Board of Supervisors
Kim Painter of Iowa City, Johnson County; Johnson County Recorder
Jerica Parker of Cedar Rapids, Linn County; Cedar Rapids Activist
Sally Pederson of Des Moines, Polk County; Former Lieutenant Governor and Past Chair of the Iowa Democratic Party
Phyllis Peters of Ames, Story County; Political Activist and former Story County Chair
Phyllis Peterson of Cedar Rapids, Linn County; Educator
Barbara Pfieffer of Saint Charles, Madison County; Activist
Holly Raczowski of Decorah, Winneshiek County; Troop Leader Girl Scout Troops 345 and 348 of Decorah. Council Delegate of Girl Scouts of Eastern Iowa and Western Illinois
Audrey Rahn of Cedar Rapids, Linn County; Hills Angels
Mary Riche of Des Moines, Polk County; Activist
Doreen Rick of Mason City, Cerro Gordo County; Educator
Marcia Rogers of Cedar Rapids, Linn County; President of Management Resource Group
Laura Sands of Des Moines, Polk County; Polk County Activist and Former School Board Member
Becky Schmitz of Fairfield, Jefferson County; State Senator
Mary Ann Schuldt of Sioux City, Woodbury County; Retired Educator
Patsy Shors of Des Moines, Polk County; Activist
Campbell Spencer of Des Moines, Polk County; Former GLBT Outreach Director for the Democratic National Committee and Gore 2000
Sara Porter Stark of Cedar Rapids, Linn County; Volunteer at Cedar Rapids Free Health Clinic and Hill's Angels
Julie Stauch of Des Moines, Polk County; Community Activist
Sarah Stephenson of Iowa City, Johnson County; Activist and University of Iowa Law Student
Jean Stowell of Northwood, Worth County; Executive Director of the Top of Iowa Welcome Center
Sally Stutsman of Riverside, Johnson County; Johnson County Supervisor
Carrie Tedore of Dubuque, Dubuque County; Executive Committee, Dubuque County Democrats
Dr. Julianne Thomas of Cedar Rapids, Linn County; Pediatrician and Community Activist
Rita Vargas of Davenport, Scott County; Scott County Recorder
Christie Vilsack of Mt. Pleasant, Henry County; Former First Lady of Iowa
Marcia Wanamaker of Waukee, Dallas County; Real Estate Developer
Phyllis Weeks of Knoxville, Marion County; Knoxville County Chair and Third Congressional District Central Committee
Margi Weiss of Des Moines, Polk County; Director of Marketing and Communications for Planned Parenthood of Greater Iowa and Former Member of State Central Committee
Anita Wendt of Sioux City, Woodbury County; Retired Educator and Community Activist
Donna Whitead of Sioux City, Woodbury County; Activist
Karen Wick of Mediapolis, Des Moines County; Des Moines County Central Committee
Cindy Winckler of Davenport, Scott County; State Representative and Past National President of Business and Professional Women
Jane Witt of Cedar Rapids, Linn County; Community Activist and Volunteer
Linda Yoder of Marengo, Iowa County; County Supervisor
Rachel Zimmermann of Iowa City, Johnson County; Political Activist
Hillary Clinton, Press Release - Over 100 Iowa Women to Lead TEAM HILLARY Online by Gerhard Peters and John T. Woolley, The American Presidency Project https://www.presidency.ucsb.edu/node/292485