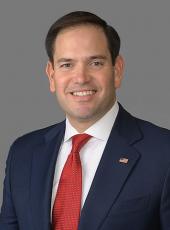 Press Release - One Conservative Activist That Just Endorsed Marco on Why 'He Makes Us Swell with Pride'
Frayda Levin is a Reagan-administration veteran who has devoted years of her life now to the causes of liberty and free markets, working with groups like the Club for Growth and Americans for Prosperity.
She just endorsed Marco. Here's her explanation why:
From the first time I heard Marco Rubio speak about America and all our freedoms, I felt in my heart that he understood this country is truly a land of opportunity for all. At least it was — Marco has also experienced that opportunity has being eroded due to the burdens of government and restrictions it places on struggling Americans.

This fight for liberty is immensely personal for him, given the struggles of Marco's family and how they were able to succeed thanks to America's robust free market system. He is saddened that so many working Americans are being denied the opportunities of past generations due to licensing requirements, regulations stifling manufacturing, limits on energy production, and more.

I also admire how Marco views each and every working profession as admirable. He praises those who work in all trades which are critical as well as those in the service industries. He does not disparage their contributions to our economy by claiming everyone should get a college education.

Marco also defied the establishment in Florida: When they wanted to elect Charlie Crist, Rubio fought for the right to assure Florida was represented by someone who had true conservative principles. And yet, unlike Cruz, Rubio can work with all types — which is something Marco proved as Speaker of the Florida House of Representatives.

Marco is also the most conservative candidate who can get elected. Marco will not just get elected — he make us swell with pride. I will be so proud as he debates the Democratic candidate and show her (or him) why an expanding government is destroying America's middle class and opportunity.
Marco Rubio, Press Release - One Conservative Activist That Just Endorsed Marco on Why 'He Makes Us Swell with Pride' Online by Gerhard Peters and John T. Woolley, The American Presidency Project https://www.presidency.ucsb.edu/node/325942