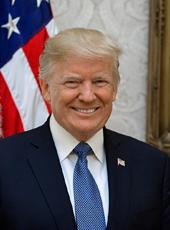 Press Release - ONDCP March 2017 Newsletter
A Word from Acting Director Kemp Chester
"At ONDCP, I've been actively involved in our policy response to the drug-related threats we face and our strategies to address them, including prevention, expanding access to treatment, and stopping the flow of drugs into and throughout our country. I've seen just how much our work depends on great partners like you – people on the ground in communities across the country including parents, advocates, public health officials, treatment providers, first responders, and law enforcement officers, as well as local, state, tribal, and Federal leaders, and so many others working tirelessly to improve the health of their communities. I admire the work you do, and please know that you have a voice and a partner in me personally, and indeed all of us here at ONDCP."

ONDCP Acting Director Kemp Chester meets with CADCA Chairman & CEO General Arthur Dean at CADCA's 27th Annual National Leadership Forum on February 9.
FY 2017 DFC Funding Opportunity Announcement (FOA)
The Office of National Drug Control Policy (ONDCP) and the Substance Abuse and Mental Health Services Administration (SAMHSA) are accepting applications for Fiscal Year (FY) 2017 Drug-Free Communities (DFC) Support Program grants.
Click here to access the FY 2017 DFC FOA on the SAMHSA grants website or here for Grants.gov. If you have questions relating to the FY 2017 DFC FOA, please contact the DFC FOA Helpline Team at (240) 276-1270 or email your questions to dfcnew@samhsa.hhs.gov.
Online DFC Applicant Workshop: Applicants unable to attend one of the FY 2017 DFC Applicant Workshops can view a recorded version by visiting the website here.
Addiction Medicine Officially Recognized as Medical Subspecialty
For the first time ever, the more than 850,000 physicians who are certified by a member board of the American Board of Medical Specialties (ABMS) will be able to sit for an exam to obtain certification in the sub-specialty of addiction medicine.
Physicians who are certified by any of the 24 Member Boards of the ABMS and have substantial experience in the field of addiction medicine are eligible to apply to take the examination during the first five years that the exam is offered. Thereafter, a one-year addiction medicine fellowship will be required to take the examination. There are already 44 accredited addiction medicine fellowship programs.
Review Course: To help physicians prepare for the exam, the American Society of Addiction Medicine will be conducting a review course for physicians in Dallas, Texas, from July 27-29. Physicians interested in certification or recertification can find more information on the course and a link to the course registration site here.
Certification Exam: The first certification exam will be offered in fall 2017, with anticipated application dates in April and May 2017. Details can be found here.
CDC Modernizes Pain Management and Prescription Guidelines with New App
The Centers for Disease Control and Prevention (CDC) introduced a free Opioid Guideline App that allows users to access the agency's recommendations on pain management and opioid treatment. The purpose of the app is to provide healthcare professionals and patients with quick reference materials on the prescription opioid overdose crisis and help them make informed clinical decisions. Features include a useful and intuitive Morphine Milligram Equivalent (MME) calculator for drugs such as hydrocodone, transdermal fentanyl, and other opioids. Additionally, the app contains summaries of key guideline recommendations, a glossary of terms, and an interactive motivational interview feature.
For more information on the app, visit the CDC's website by clicking here.
The app is free to download and can be found on the Apple App Store, the iTunes store, and the Google Play store by searching "CDC Opioid Guideline."
ONDCP's Online Webinars
On December 20, ONDCP held a webinar entitled, Addressing Opioid Overdose Use Disorder in Hospitals, with experts from across the country.  One panelist Dr. Traci Green of Boston University and Brown University, has offered to provide free informal consultation to those interested in adopting new methods to address opioid overdose and use disorder in hospital settings. To learn more, please email Dr. Green at tcgreen@bu.edu.
To view the December 20th webinar, please visit our YouTube channel here.
Additionally, a related webinar entitled, Innovative Approaches for Addressing Opioid Overdose and Opioid Use Disorders in Hospital Emergency Departments, can be viewed by clicking here.
Donald J. Trump, Press Release - ONDCP March 2017 Newsletter Online by Gerhard Peters and John T. Woolley, The American Presidency Project https://www.presidency.ucsb.edu/node/351003