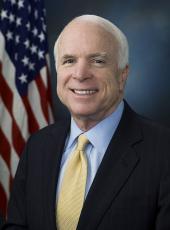 Press Release - Ohio Republicans Applaud John McCain's Ohio Primary Victory
ARLINGTON, VA -- U.S. Senator John McCain's presidential campaign today released the following statement on behalf of Republican Members from Ohio's Congressional delegation who applauded John McCain's decisive primary election victory in the Buckeye State.
Ohio's importance in the national electoral landscape is well-documented, and John McCain has quickly galvanized strong support among some of Ohio's most influential Republicans in Washington. The members, whose districts range from moderate to conservative, have embraced John McCain for his consistent adherence to the principles that matter most to all Republicans -- most notably, his commitment to national defense and the war against Islamic extremism, and his relentless drive to balance the budget and control federal spending.
With John McCain's lock on the Republican nomination all but secured, members from the Ohio delegation reaffirmed their unequivocal support for John McCain's candidacy, and issued the following statements:
Senator George Voinovich:
"Ohioans have spoken, and I'm confident that John McCain will be our nominee and our next president. In times like these, America needs a strong leader with experience, and that's John McCain."
John Boehner (OH-8):
"Senator McCain is a tested leader who will fight wasteful spending and needless tax hikes, keep America secure, and nominate judges who understand that courts should not be legislating from the bench. Americans know he is a man of great character and integrity, and trust him to take on the many opportunities and challenges of the years ahead. John McCain understands Washington is broken; together I believe we can fix it."
Ralph Regula (OH-16):
"If you reduced the country down to one state, you'd probably be left with Ohio, so this is an important win for Senator McCain. We've seen from tonight's results that Senator McCain's strong record and vision for expanding job opportunity and economic growth, keeping our homeland safe and controlling government spending are what the voters in Ohio are seeking and what I believe the country will look for in the fall."
Deborah Pryce (OH-15):
"Ohio is the epicenter of the electoral map, and Senator McCain's support here is robust, energized and diverse. Voters will have the choice between two dramatically different candidates and visions in November, and Senator McCain's courage, experience, and conviction will prove to be the decisive difference for Ohioans."
Steve Chabot (OH-1):
"I commend Senator McCain on his victory tonight in Ohio. Over the years he has proven himself to be a man of great courage and he has worked to build the necessary experience to lead this country."
Steven LaTourette (OH-14):
"John McCain's solid victories in Ohio and Texas tonight cement the nomination and will now free him to define the issues that make him a better choice for America."
Pat Tiberi (OH-12):
"I am pleased Ohioans agreed that John McCain is a solid leader. His fiscal policy -- to spend taxpayers dollars responsibly, eliminate waste, and lower taxes, puts families' priorities ahead of increased government spending. I am proud that Ohioans have helped move John McCain further toward the nomination."
Michael Turner (OH-3):
"Ohioans made a clear choice tonight. Our vote for John McCain for President was a vote for job creation and a strong national defense. I look forward to working with Senator McCain toward victory in November."
Jean Schmidt (OH-2):
"John McCain is a strong fiscal conservative and an ardent defender of life. He is a true American hero and I am proud he is our nominee."
Bob Latta (OH-5):
"Ohio will certainly be the center of attention this fall, and Senator McCain's victory this evening is an important step toward his victory in November. Ohioans are looking for a candidate who is committed to keeping our country safe and dedicated to reducing federal spending. I believe Senator McCain offers the working families of Ohio a clear alternative as a principled leader to ensure both our country's safety and economic viability in the world marketplace."
John McCain, Press Release - Ohio Republicans Applaud John McCain's Ohio Primary Victory Online by Gerhard Peters and John T. Woolley, The American Presidency Project https://www.presidency.ucsb.edu/node/292092