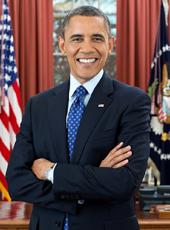 Press Release - Obama Vows to Stand Up to Corporate Mega-Farm Lobbyists Who Wield Too Much Influence Over Farm Bill
LE MARS, IA -- Democratic candidate for president Barack Obama told Iowans today that he'd work with Senator Tom Harkin on the Farm Bill and stand up to the corporate mega-farm lobbyists who have long had too much influence over rural and agriculture policies that have hurt family farmers in Iowa and across America.
"Over the past decade, our government has handed out $1.3 billion in federal farm money to people who aren't even farmers," said Obama. "We've got farm money going to Fortune 500 companies. And get this -- we even have the Department of Agriculture paying roughly a billion dollars to more than 170,000 people who aren't even alive. It's a waste of money that makes it harder for family farms to turn a profit and easier for corporate mega-farms to buy them out."
Speaking at town hall events in Le Mars and Sioux City, Senator Obama said too many Washington politicians have allowed Washington lobbyists to put special interest priorities above national priorities like investing in renewable energy, lowering health care costs and improving the economy in America's rural communities. Obama said the Farm Bill that's being debated in Congress was an important opportunity to change the priorities in Washington, DC.
"When the farm bill comes up in the Senate, I will be fighting to tell all those agribusiness lobbyists that they won't be able to count on the multi-million-dollar subsidies they always get because we're going to put family farmers first," said Obama. "Under Tom Harkin's leadership, we're going to put conservation of our land and our water first. We're going to put biofuels like cellulosic ethanol, biodiesel and ethanol that represent the future of energy in this country first. And we're going to put economic development for rural America first. Those lobbyists -- they can wait at the back of the line for a change."
Obama said his record of passing ethics reform initiatives in Illinois and Washington and his rejection of campaign contributions from PACs and federal lobbyists are evidence that, as President, he'll stand up to Washington lobbyists and put family farmers first.
"While you're working in the fields, lobbyists are working in Congress to block the rural reforms America needs," Obama said. "This farm bill gives us an opportunity to turn the conventional Washington wisdom on its head."
Barack Obama, Press Release - Obama Vows to Stand Up to Corporate Mega-Farm Lobbyists Who Wield Too Much Influence Over Farm Bill Online by Gerhard Peters and John T. Woolley, The American Presidency Project https://www.presidency.ucsb.edu/node/292258