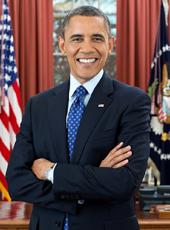 Press Release - Obama Joins Booker and Healy to Call for Creation of Affordable Housing Trust Fund
Teterboro, NJ - Barack Obama joined Mayor Cory Booker of Newark and Mayor Jerramiah Healy of Jersey City today to call for the creation of an Affordable Housing Trust Fund that would build up to 14,000 new affordable units each year in mixed income neighborhoods and provide a needed economic stimulus to our communities across the country.
"In Newark, Jersey City, and across the country, too many low-income families are getting priced out of the housing market. That means too little left over for other essentials, like health care and child care. In fact, there is not a single metropolitan area in the country where a family earning minimum wage can afford decent housing," said Senator Barack Obama. "I am standing here today with two men with whom I share a record of putting the people first who need a helping hand most and I can assure you that with Mayors like these two men leading our cities and new leadership in the White House, the revitalization of our cities will again be a priority in this country."
"It is time that we have a national leader that will lead us in accordance to our highest common ideals and remind us that we have more that unites us as a people than divides us," said Mayor Cory Booker. "Barack Obama has a substantive approach to our enduring national challenges. I believe he is committed to expanding access to economic abundance and opportunity. A couple months ago, I stood with Mayor Healy urging the federal government to restore needed funds. Today, I stand with Senator Obama and Mayor Healy to ensure affordable housing is a priority all over the country. I believe that America's destiny is going to be determined by us rising to a larger common purpose. The best person in my opinion that represents that kind of prophetic leadership, is Barack Obama."
"We have an affordable Housing Trust Fund established in our city because we recognized the need some time ago. As you know, Mayor Booker and I have called on our representatives in Washington to restore the federal dollars that have been cut by HUD, desperately needed dollars that support public housing sites in big cities across the nation, particularly in Jersey City and Newark. The fight for affordable housing for our working poor and the support of public housing initiatives go hand in hand," said Mayor Jerramiah Healy.
Mayor Booker and Mayor Healy announced their support for Senator Obama and stood with him today in support of the call for more affordable housing. Obama's plan would create an Affordable Housing Trust Fund to rehabilitate and build new rental housing in areas that are in close proximity to job opportunities, public transportation and other services.
The Affordable Housing Trust Fund would use a small percentage of the profits of Fannie Mae and Freddie Mac to create up to 14,000 new units of affordable housing every year in mixed-income neighborhoods. Approximately 75% of the funds would support households below 30% of the median income and the additional 25% of the fund would be used to assist low-income families in homeownership activities.
Barack Obama, Press Release - Obama Joins Booker and Healy to Call for Creation of Affordable Housing Trust Fund Online by Gerhard Peters and John T. Woolley, The American Presidency Project https://www.presidency.ucsb.edu/node/293127