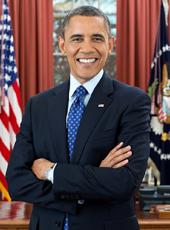 Press Release - Obama Discusses Commitment to Providing Real Leadership for Rural America By Standing Up to Big Agribusiness
Spencer, IA - At a meet the candidate event in Spencer today, U.S. Senator Barack Obama discussed the ways in which he would provide real leadership for rural America by standing up to the special interests. Senator Obama said that Tom Harkin's recent efforts to pass a strong farm bill were undermined by lobbyists for big agribusiness. He pledged that as President, he would stand up to the special interests and make the rural agenda America's agenda.
"We need to set priorities that reflect our values. Tom Harkin just fought hard to pass a farm bill that stressed conservation and support for specialty growers - but once again, the lobbyists stepped in to make sure that big agribusinesses got the multi-million-dollar giveaways they've come to count on," said Senator Obama. "Well it's time we stand up to those lobbyists and tell them that we're putting family farmers first. We're putting conservation of our land and water first. We're putting tougher standards for CAFOs first, and if there's going to be a hog lot in your community, then the community gets a say about where it goes."
This summer, Senator Obama hosted a rural issues forum in Adel, a rural policy summit in Tama, and directed his staff to conduct more than 30 hearings across Iowa to gain input and ideas from Iowans who live, work and raise families in rural communities. In October, Senator Obama unveiled his rural policy agenda that incorporated the contributions of policy experts in Iowa and across the nation.
"I will recruit new teachers and make new investments in rural schools. We'll connect all of America to 21st century technology and telecommunications," Obama said. "We'll support small businesses in our small towns, increase grants for our community colleges, and make new investments in renewable energy. And we'll show that we value farming in this country by launching a program that gives a hand to the next generation of farmers, and helps them buy their first farm. It's time to give small farmers the resources they need to be our best stewards of the land."
Senator Obama's rural agenda will:
• Ensure Economic Opportunity for Family Farmers

• Support Rural Economic Development

• Promote Rural America's Leadership in Developing Renewable Energy

• Improve Rural Quality of Life
You can view the entire "Real Leadership for Rural America" plan by clicking here: http://iowa.barackobama.com/ruralplan.
Barack Obama, Press Release - Obama Discusses Commitment to Providing Real Leadership for Rural America By Standing Up to Big Agribusiness Online by Gerhard Peters and John T. Woolley, The American Presidency Project https://www.presidency.ucsb.edu/node/293049