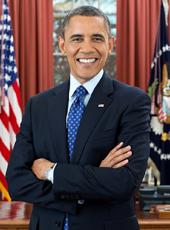 Press Release - Obama Campaign Announces the Support of 46 Women Serving in Elective Office in Iowa
Des Moines, IA -- The Obama for America campaign today announced the support of 46 women serving in elective office in Iowa. Obama's announcement comes on the heels of a widely praised speech at the Iowa Jefferson Jackson dinner, another strong debate performance, and a decision by UAW Region 4 to throw their support behind his campaign.
"Barack Obama has spent his career bringing people together to solve problems," Jasper County Recorder Nancy Parrott said. "He is exactly what we need after two terms of George Bush - a President that can actually unite our country around a common purpose."
The list of endorsements included four Iowa State Representatives - Reps. Helen Miller, Elesha Gayman, Janet Petersen and Pam Jochum. Obama received the support of women living in 26 counties across the state.
"We need to nominate a Democrat like Senator Obama that can not only attract votes from Democrats, but also Republicans and Independents to win the election, and build a coalition that can actually govern," State Representative Pam Jochum said. "Senator Obama proved at the JJ dinner that he can inspire the American people and call them to action, which is why his candidacy gives me hope and I'm supporting him."
"What women in Iowa and all across America are looking for is a candidate who leads by principle and conviction who can bring the country together to forge consensus," Obama said. "They're tired of Washington gridlock and polarization that has kept us from making any progress on the challenges our country faces, and understand that we need to elect a President who will bring about change we can believe in."
Yesterday, delegates of United Auto Workers Region 4, which includes 30,000 members and retirees in Iowa, voted to support Senator Barack Obama's presidential campaign. The group announced its overwhelming support at the close of a weeklong conference where seven of the major Democratic presidential candidates addressed the group earlier this week. UAW members said Obama's ability to unite the country makes him the strongest candidate in the Democratic field and vowed to use the group's widely respected organizational muscle to help him do well in the first-in-the-nation caucuses.
Below is the list of supporters:
| | | | |
| --- | --- | --- | --- |
| First Name | Last Name | Office | County Name |
| Susan | Olesen | Nodaway Valley Community School Board | Adair |
| Debra | Henkle | Mayor of Cincinnatti | Appanoose |
| Dawn | Flickinger | Garrison City Council | Benton |
| Kathy | Tranel | Vinton School Board | Benton |
| Lila | Kruse | Boone City Council | Boone |
| Jacinta | Hart | West Branch School Board | Cedar |
| Susan | Breitbach | Chickasaw County Treasurer | Chickasaw |
| Linda | Orr | Clayton County Treasurer | Clayton |
| Brenda | Buck | Lee County Treasurer | Des Moines |
| Karla | Braig | Dubuque City Council | Dubuque |
| Pam | Jochum | Iowa State Representative | Dubuque |
| Pamela | Hayes | Webster City School Board | Hamilton |
| Deborah | Leksell | Hamilton County Treasurer | Hamilton |
| Tracy | Muth | Woden-Crystal School Board | Hancock |
| Kathi | Berry | Salem City Council | Henry |
| Elizabeth | Momany | Amana School Board | Iowa |
| Candi | Schmieder | Marengo City Council | Iowa |
| Robyn | Friedman | Lamb's Grove City Council | Jasper |
| Nancy | Parrott | Jasper County Recorder | Jasper |
| Amy | Correia | Iowa City City Council | Johnson |
| Mary-Eileen | Larsen | Lone Tree City Council | Johnson |
| Sally | Robbins | Lone Tree School Board | Johnson |
| Sara | Curtis | Algona City Council | Kossuth |
| Julia | Logan | Keokuk School Board | Lee |
| Lu | Barron | Linn County Supervisor | Linn |
| Judy | Goldberg | Cedar Rapids School Board | Linn |
| Linda | Langston | Linn County Supervisor | Linn |
| Gretchen | Holcomb | Winterset School Board | Madison |
| Cherie | Miner | Griswold Community School Board | Montgomery |
| Pamela | Smith | Emmetsburg City Council | Palo Alto |
| Teree | Caldwell-Johnson | Des Moines School Board | Polk |
| Angela | Connolly | Polk County Supervisor | Polk |
| Janet | Petersen | Iowa State Representative | Polk |
| Paula | Walzer | Mayor of Sheldahl | Polk |
| Harriett | Dickey-Chasins | Grinnell School Board | Poweshiek |
| Beverly | Rens | Brooklyn School Board President | Poweshiek |
| Wanda | Sims | Grinnell School Board | Poweshiek |
| Karen | Fitzsimmons-Walton | Scott County Auditor | Scott |
| Mary | Gallin | Scott County Supervisor | Scott |
| Elesha | Gayman | Iowa State Representative | Scott |
| Molly | Regan | Scott County Soil and Water District Commissioner | Scott |
| Dana | Smith | Buffalo City Council | Scott |
| Jeanette | Wildermuth | Blue Grass City Council | Scott |
| Patricia | Zamora | Davenport School Board | Scott |
| Cynthia (Cyd) | Dyer | Indianola School Board | Warren |
| Helen | Miller | Iowa State Representative | Webster |
Barack Obama, Press Release - Obama Campaign Announces the Support of 46 Women Serving in Elective Office in Iowa Online by Gerhard Peters and John T. Woolley, The American Presidency Project https://www.presidency.ucsb.edu/node/292446