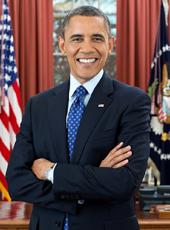 Press Release - Obama Campaign Announces National Veterans Advisory Committee
Veterans from World War II, Korea, Vietnam, Iraq and Current Conflicts to Advise Obama
Chicago, IL - The Obama campaign announced the launch of his National Veterans Advisory Committee today that will advise Senator Obama through the course of the campaign on issues related to the challenges facing troops and veterans. The group will also take the lead on building the grassroots network of support in the veteran's community in key primary states and in communities with large veteran's populations across the country.
"Senator Obama has been a leader for veterans in the Senate, and has laid out the most comprehensive plan to care for veterans among the 2008 candidates," said Major General Merrill "Tony" McPeak, a retired four-star Air Force general. "I am honored to work with him to care for our fighting men and women, both when they serve and when they return home. I firmly believe Barack Obama is the best candidate for our nation's veterans, and I would be proud to call him my commander in chief."
"Barack Obama has fought to improve veterans' care, to reduce homelessness among veterans, and ensure fair disability benefits," said Former Senate Majority Leader Tom Daschle, who served as a United States Air Force intelligence officer. "As President, Barack Obama will continue his leadership for the rights and benefits of veterans. He will stand with veterans -- just as they have stood up for us."
"I'll be a President who ensures that America serves our men and women in uniform as well as they've served us, and that's why I'm proud to have the support of these veterans advising me on the issues facing our troops and veterans," Obama stated. "After seven years of an Administration that has stretched our military to the breaking point, ignored deplorable conditions at some VA hospitals, and neglected the planning and preparation necessary to care for our returning heroes, America's veterans deserve a President who will fight for them not just when it's easy or convenient, but every hour of every day for the next four years."
As a member of the Senate Veterans' Affairs Committee, Senator Obama is committed to helping the heroes who defend our nation today and the veterans who fought in years past. As a grandson of a World War II veteran who went to college on the G.I. Bill and a member of the Senate Committee on Veterans Affairs, Senator Obama has successfully reached out to Republicans and Democrats to pass laws to improve care for troops recovering from injuries, combat homelessness among veterans, and make the disability benefits process more equitable.
Obama has made it a priority to reach out to veterans as part of his presidential campaign. In August, he laid out a comprehensive plan to build a 21st-century Department of Veterans Affairs that upholds America's sacred trust with our veterans. To read more about the plan, visit http://www.barackobama.com/issues/veterans/.
The National Veterans Advisory Committee includes:
IOWA
Col. Bill Peterson, U.S. Marine Corps (Ret.), Iowa City, I A
MG Dennis Gray, U.S. Air Force (Ret.), Glenwood, IA
Ray Hutchinson, State Chair of Vietnam Veterans of America., Chairman-Iowa Veterans Council, Des Moines, IA
State Senator Steve Warnstadt, actively a Lieutenant Colonel in Iowa Army National Guard, former state chair of Veterans for Kerry, Sioux City, IA
NEW HAMPSHIRE
State Representative Kris Roberts, Chairman, New Hampshire House State-Federal Relations and Veterans Affairs Committee, U.S. Marine Corp Lt. Col. (Ret.), Keene, NH
Jim Smith, Brigadier General, U.S. Air Force (Ret.), Salem, NH
Brian Hardy, Commander, Littleton VFW Post 816, Member, Congressman Paul Hodes' Veterans Advisory Committee U.S. Army - Vietnam, Dalton, NH
Rear Admiral John Hutson, Judge Advocate General Counsel, U.S. Marine Corps (Ret.), Bow, NH
NEVADA
1st Sgt. Frank Barbee (Ret.), U.S. Army, Las Vegas, NV
Sgt. Allen Dohra, U.S. Marine Corps (Ret.), Henderson, NV
Cpl. Bert Cooper, U.S. Army (Ret.), Ely, NV
Sfc. Rick Hull, U.S. Army and International Air Guard, Winnemucca, NV
SOUTH CAROLINA
Col. Richard A. Hayes, U.S. Air Force (Ret.), North Charleston, SC
Lt. Col. Arthure W. McMaster, U.S. Army (Ret.), Greenville, SC
Capt. T.R. Rhodes, U.S. Air Force (Ret.), Greenville, SC
Specialist Pete Skidmore, U.S. Army, Fort Mill, SC
NON-EARLY STATES
Senator Tom Daschle, former U.S. Senator and Senate Majority Leader from South Dakota, Served as an intelligence officer in the U. S. Air Force Strategic Air Command
Congressman Neil Abercrombie (D-HI), Chairman, House Armed Services Subcommittee on Air and Land Forces
Congressman Sanford Bishop (D-GA), U.S. Army Veteran
Congressman John Conyers (D-MI), served in the National Guard and U.S. Army Corps of Engineers in the Korean War
Delegate Eni Faleomavaega (D-American Samoa), U.S. Army and U.S. Army Reserve, Vietnam Veteran
Congressman Phil Hare (D-IL), served in U.S. Army Reserves for six years and member of the House Committee on Veterans Affairs
Congressman Bobby Rush (D-IL)- enlisted in the U.S. Army at age 17, served from 1963-1968
Congressman Patrick Murphy (D-PA), first, and to date, only veteran of the Iraq War to serve in Congress, and he was awarded the Bronze Star.
Congressman Adam Smith (D-WA), Chairman, House Armed Services Subcommittee on Terrorism and Unconventional Threats and Capabilities
Pat Quinn, Illinois Lieutenant Governor
Alderman James Balcer, U.S. Marine Corps Vietnam Veteran, Chicago, IL
General Merrill "Tony" McPeak; Chief of Staff of the U.S. Air Force (1990-1994)
Major General Scott Gration, U.S. Air Force (Ret); Commander, Operation Iraqi Freedom's Task Force West; Director Strategy Policy and Assessments, United States European Command
Col. Charles McGee, U.S. Air Force (Ret.), Combat Veteran from WWII, Korea and Vietnam. Past President of Tuskegee Airmen.
Phillip Carter, Former U.S. Army Captain and Iraq Veteran - Associate, McKenna, Long, & Aldridge LLP
Captain W. Scott Gould, U.S. Naval Reserve (Ret.) -- Former Assistant Secretary, U.S. Department of Commerce. Active duty and reserve officer for 26 years; mobilized for Afghanistan.
John Hurley, U.S. Army, former National Director, Veterans for Kerry, Vietnam Veteran
Col. Richard Klass, U.S. Air Force (Ret.) A Vietnam combat Veteran and president of VETPAC
Brigadier General Dave McGinnis, New York National Guard (Ret.), Vietnam Combat Veteran, former Senior Fellow, National Guard Association.
Dr. Stephen Ondra, Professor of Neurological Surgery, Northwestern University Medical School. Former military and Department of Veterans Affairs Surgeon.
Don Stanton, U.S. Navy Commander (Ret.), Vietnam veteran. Policy Assistant, Office of the Secretary of Defense.
James Swartout, Former board member of the Montana Board of Veterans' Affairs. Former aid to Senate Finance Committee Chairman.
Joann Williams, U.S. Army Reserves, Founder, Chicago Vietnam Veterans and Family Assistance Program
Richard Danzig, served as 71st Secretary of the Navy
Barack Obama, Press Release - Obama Campaign Announces National Veterans Advisory Committee Online by Gerhard Peters and John T. Woolley, The American Presidency Project https://www.presidency.ucsb.edu/node/292429