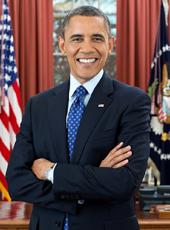 Press Release - Obama Campaign Announces Dinner with Barack Participants
Individuals Selected Represent Four Different States including California, Colorado, Florida and New Hampshire
Chicago, IL -- The Obama for America campaign announced today that four supporters from Exeter, New Hampshire; Los Angeles, California; Lakewood, Colorado and Cocoa Beach, Florida have been selected to have dinner with Barack Obama. As part of the second Dinner with Barack Obama, the participants were selected from a group of thousands who submitted their personal stories along with a donation as small as $5 at barackobama.com. The first "Dinner with Barack" was held on July 10 in Washington, DC.
"Throughout this campaign, I have met with thousands of Americans who share their ideas about how to bring fundamental change to Washington and our country," said Senator Obama. "I'm looking forward to hearing about the experiences of Gabrielle, Brittany, Dorothy and Michael, who know firsthand why our health care system must be reformed and why we must begin to safely redeploy our troops from Iraq. Turning the page on the great challenges facing our nation at home and around the world requires the input of everyday experts who confront hardships in their own lives."

The dinner will take place in September. Transportation and accommodations will be paid for by the campaign.

Selected Participants:
Mike Wilson, Cocoa Beach FL

Mike is an Air Force veteran of Operation Iraqi Freedom and a registered Republican who disagreed with the reasons why we went into Iraq. He supports a phased withdrawal from Iraq because he believes we need to be as careful getting out of Iraq as we were careless getting in. He is looking forward to sharing stories about the people he met in Iraq including an Iraqi physician who invited him and other military medical personnel to his home to talk about anything, but war and politics and an Iraqi man who dreamed about coming to America. Mike believes Barack Obama "represents the best of what America is and what America needs -- a beacon for people looking for freedom and hope."
Brittany Washington, Los Angeles, CA ( Howard University, Washington, D.C.)

Brittany is a Howard University student who wants to join Teach for America, get her doctorate in education and public policy, and possibly open her own charter school. She currently volunteers in Washington, D.C.'s public school system and says, "The windows are broken out, and there are never enough chairs or lights. It's just ridiculous. And we expect these kids to compete with other kids who have chairs and windows."
Brittany's mother, who used California's welfare medical coverage, recently passed away at the age of 38. When she asked for someone to check her for breast cancer, she was told she had a "swollen gland" and instructed to "put a warm compress on it." During Brittany's mother's final stay in the hospital, she was never once seen by a cancer specialist despite repeated requests from the family, and was rejected by several other Los Angeles doctors when she applied for transfer because she was only covered by MediCal, California's health insurance program for low income residents.
She says she admires Barack's style of politics because "it's honest and realistic. As a political science major, she'd want to ask him how he's able to work in politics and stay true to his beliefs.
Dorothy Unruh of Lakewood, Colorado

Dorothy is a retiree living in Lakewood, Colorado. She believes Barack Obama is a fresh, vibrant voice committed to fighting for universal healthcare coverage and restoring ethics to our government. She is supporting Barack Obama because she believes he raises the standard of politics and that he will fight for the issues important to her and her friends and neighbors in her community.
Gabrielle Grossman of Exeter, New Hampshire

Gabrielle worked as a 7th grade teacher but has recently become a stay-at-home mom. She has been volunteering for over a month for the campaign. The week she signed up to volunteer, she found out that her 2-year-old son was diagnosed with autism. The campaign has kept her motivated and energized throughout this tough time in her life. She adds, "At a time when you don't feel like you have a lot of hope, it's done the total opposite, the campaign has got us involved and given me more hope than ever."
Barack Obama, Press Release - Obama Campaign Announces Dinner with Barack Participants Online by Gerhard Peters and John T. Woolley, The American Presidency Project https://www.presidency.ucsb.edu/node/292398