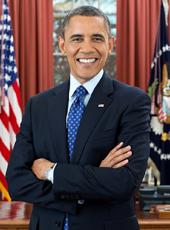 Press Release - Obama Campaign Announces ''Dinner with Barack'' Participants
Chicago, IL-The Obama campaign today announced the individuals who have been selected to have Dinner with Barack Obama. One week ago, the campaign kicked off an online program that asked people of all different backgrounds to tell the campaign a little bit about themselves. The participants were selected from a group of thousands who submitted their personal stories along with a donation as small as $5 on the website at www.barackobama.com.
"I am looking forward to sitting down with this group of four people who are representative of the millions of voices that have been drowned out by the special interests in Washington," said Senator Barack Obama. "This dinner is about hearing from the everyday experts on how we can work together to change the problems facing this country today."
The goal was to pull together a group of people who might not otherwise sit down and have dinner together and the participants include a miner from Nevada, the wife of a soldier serving in Iraq from Louisiana, a mentor for young people in the Bronx and a former Republican who is working as a firefighter and paramedic in Florida.
The dinner will take place in July at a restaurant in Washington, DC. Transportation and accommodations will be paid for by the campaign.
Individuals Selected for Dinner with Barack Obama:
Haile Rivera, Bronx NY

Haile works as a community program specialist with the Food Bank for New York City during the day which includes work with food pantries, youth programs and soup kitchens. In his spare time, he founded "Hands on New York," a non-profit organization in New York City dedicated to getting school age kids involved in civics. Haile feels that Barack Obama understands the importance of increasing employment and education opportunities for minorities. He has seen first hand how No Child Left Behind has disappointed educators across the country and knows that Senator Obama is serious in getting our education system back on the right track.
Michael Griffith, Fernley NV

Michael is a miner in western Nevada whose health care costs have tripled over recent years. This is Michael's first time donating or participating in politics and he felt that as his family grew, so did his concern with the direction of the country. He is supporting Barack Obama because he believes that we need a change of leadership in this country so that we can bring the troops home and lower the skyrocketing cost of healthcare that is an enormous financial burden on working class families like his own.
Margaret Thomas-Jordan, Gonzales LA

Margaret is a working mother of two boys, age nineteen months and eleven years and she is attending school to become a nurse. Margaret's husband was shipped to Iraq last month and he is currently serving a fifteen month tour. Health care costs have grown especially difficult for Margaret and she is struggling with access to health care because she does not qualify as a traditional student. Margaret is supporting Barack Obama because she believes that he is truly reaching out to all people and uniting the country around a common goal.
Jennifer Lasko, Lake Worth FL

Jennifer used to be an active member of the Republican Party and was a member of the College Republicans at Cornell University. She served as an officer in the army after graduating and is now a full time firefighter and paramedic in Lake Worth. Jennifer is most troubled by the strain the war in Iraq has left on the military and she supports Barack Obama in his efforts to bring the troops home. The last campaign that Jennifer participated in was Reagan-Bush in 1984. She feels that Senator Obama is the best candidate to reverse the damage created by divisive politics that has plagued our country.
Barack Obama, Press Release - Obama Campaign Announces ''Dinner with Barack'' Participants Online by Gerhard Peters and John T. Woolley, The American Presidency Project https://www.presidency.ucsb.edu/node/292386