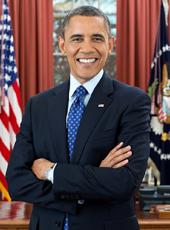 Press Release - Obama Calls for Insurance Companies to Stop Defrauding and Deceiving Seniors
DES MOINES, IA - U.S. Senator Barack Obama today said that as president, he will end government subsidies to insurance companies who have been using deceitful and illegal methods to enroll seniors in private Medicare plans that can result in higher co-payments and fewer health care choices.
Recent news reports have detailed how insurance companies aggressively market private Medicare plans to seniors - in some cases even forging their signatures and providing false information. The private plans under Medicare receive higher subsidies for services than under traditional Medicare. For some seniors, these plans can actually increase their co-payments and reduce their health care choices.
"We shouldn't be rewarding the insurance industry for deceiving and defrauding our seniors, we should be doing everything we can to stop them," Obama said. "No one's corporate bottom line should stand between the American people and the quality, affordable health care they deserve."
The Medicare Payment Advisory Commission, an independent group that advises Congress on the Medicare program, recently reported that on average thegovernment pays 12 percent more to private Medicare plans than it costs to treat comparable beneficiaries through traditional Medicare. These excessive subsidies cost the government billions of dollars every year. The Des Moines Register has called these plans a "bad deal for taxpayers."
Obama proposed eliminating taxpayer-funded giveaways to the insurance industry, which would take away the incentive for companies to push seniors into these private plans and one that would save us up to $150 billion over the next ten years. Obama will use those savings to strengthen and preserve Medicare and other public health programs.
Enrollment in private Medicare Advantage plans has increased 39 percent in the last year and a half. Over 53,000 Iowa seniors are enrolled in Medicare Advantage plans.
Barack Obama, Press Release - Obama Calls for Insurance Companies to Stop Defrauding and Deceiving Seniors Online by Gerhard Peters and John T. Woolley, The American Presidency Project https://www.presidency.ucsb.edu/node/293013