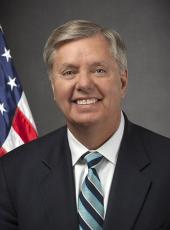 Press Release - NH1: Graham Tells NH1 News National Polling 'Is No Substitute for the New Hampshire Voter'
Graham tells NH1 News natl. polling 'is no substitute for the NH voter'

By Paul Steinhauser

July 16, 2015
Lindsey Graham says "New Hampshire is going to become my second home."
The senator from South Carolina and Republican presidential candidate spoke one-on-one with NH1 News moments before holding an event at Manchester city hall to highlight the importance of the early voting states in the primary and caucus calendar.
The event kicked off a last minute two-day swing for Graham in the Granite State. It's his third trip to the first-in-the-nation primary state this month, with another visit planned for next week.
"From a political point of view it is a must do for Lindsey Graham," the senator told NH1 News.
Asked why New Hampshire seems like a better fit for him that Iowa, which holds the first caucus, Graham instantly ticked off independents, who make up approximately 40% of the electorate.
But Graham added that his good friend and colleague Sen. John McCain of Arizona "won here twice and it proves to me that there's a market for a guy like Lindsey Graham, who's a problem solving conservative who understands that you have to work with Democrats at times. But I really think the commander in chief issue means a lot to people in New Hampshire and Iowa, but particularly here."
Graham fights for primary
At his event, Graham, standing in front of Mayor Ted Gatsas, state Sen. Dave Boutin, Rep. Pam Tucker, former executive counselors Peter Spaulding and Ray Wieczorek, former NHGOP chairmen Fergus Cullen and John Stabile, and others, Graham touted the important role the early voting states play in winnowing the field of presidential contenders.
"I would argue that the New Hampshire, Iowa, South Carolina primaries have never been in more jeopardy than they are today," Graham warned.
...
Last month some of the top Republicans in New Hampshire sent an open letter to Fox News and the Republican National Committee that strongly criticized the move to limit the first debate to ten candidates. Leading Republicans in both Iowa and South Carolina followed suit.
Some leading politicians and activists in the three states see what Fox is doing as a real threat to the first-in-the-nation primary status, by winnowing the field of candidates before New Hampshire, Iowa and South Carolina get to do so.
Graham told NH1 New that limiting the debate to 10 candidates and using national polling as the criteria was "an incredibly bad idea."
"National polling is celebrity and name ID. New Hampshire is about character and competence. I think we're going to exclude some good people based on inaccurate polling. I think we're about to nationalize the race and undercut the New Hampshire primary. That's the last antidote to big money," Graham said.
...
Lindsey Graham, Press Release - NH1: Graham Tells NH1 News National Polling 'Is No Substitute for the New Hampshire Voter' Online by Gerhard Peters and John T. Woolley, The American Presidency Project https://www.presidency.ucsb.edu/node/311636