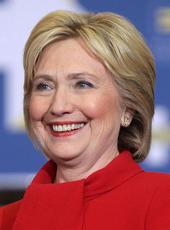 Press Release - NH Senate President Sylvia Larsen Endorses Hillary Clinton for President
Hillary's NH Support Continues to Grow
CONCORD, NH -- On the heels of Hillary Clinton's sixth trip to the state, New Hampshire Senate President Sylvia Larsen today announced she is supporting Hillary Clinton for President. Senator Larsen, who is the 39th New Hampshire legislator to endorse Hillary, plans to travel to communities throughout the state talking with New Hampshire voters about Hillary Clinton's leadership, vision and commitment to getting America back on track.
"I could not be more proud and excited to announce my decision to endorse Senator Hillary Clinton for President," said Senator Larsen. "After meeting with and talking to the candidates in this race, it was clear to me that Senator Clinton is the right choice because she is the candidate most qualified to hit the ground running. Families here in the Granite State and across the country are ready for change and Hillary Clinton is ready to lead. We need an experienced, strong and qualified leader who can get this country back on track."
Senator Larsen cited Senator Clinton's bipartisan leadership as a United States Senator and her plan to root out cronyism and corruption in government as key reasons for her decision. "Bottom line is I trust Hillary Clinton. She knows what to do and has what it takes. As the Senate Leader, I understand the importance of working with my colleagues to get things done and to govern responsibly. I believe that, like New Hampshire voters, voters across this country are hungry for accountability, honesty and responsibility to return to Washington again. As President, Hillary Clinton will turn our government around and restore Americans' confidence in the White House again- replacing the culture of cronyism and secrecy with openness and honest dealings."
Senator Larsen is currently serving her seventh term in the New Hampshire Senate. She has been a champion for working families throughout her career. Her legislative priorities have included include funding education, to include kindergarten; promoting job growth; establishing affordable health care; and safeguarding our environment.
Larsen served as the Senate's representative for 10 years to the New Hampshire Children's Trust Fund and the Healthy Kids Corporation. In addition, she was chairwoman of the New Hampshire College Tuition Savings Plan Commission for many years, a member of the Land and Community Heritage Commission and the Christa McAuliffe Planetarium Commission. She continues to serve on the New Hampshire Workforce Opportunity Council, and the New Hampshire Youth Council.
Larsen also served the city of Concord as a councilor-at-large from 1989 to 1998. In that capacity, she was a member of the Economic Development, the Solid Waste and the Fiscal Goals committees, and was chairwoman of the Community Development Advisory Committee, the Merrimack River Study Committee for Scenic and Recreational Designation and the Fourth of July Fireworks Committee. Senator Larsen lives in Concord with her husband and two children.
For more information on Hillary's New Hampshire campaign, please visit www.hillaryclinton.com/nh.
Hillary Clinton, Press Release - NH Senate President Sylvia Larsen Endorses Hillary Clinton for President Online by Gerhard Peters and John T. Woolley, The American Presidency Project https://www.presidency.ucsb.edu/node/292399