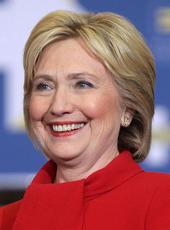 Press Release - NH House Majority Leader Mary Jane Wallner Endorses Senator Clinton for President
Major NH Legislative Endorsement Announced; Clinton Launches National "Women for Hillary" Effort
CONCORD, NH -- As women across the country join Senator Hillary Clinton today on behalf of her historic presidential campaign – together launching "Women for Hillary," New Hampshire House Majority Leader and prominent childcare advocate Mary Jane Wallner announced her endorsement of Senator Clinton.
"Senator Clinton has the wisdom and experience that will make her a great President," said Wallner. "It is important to me that she has shown not only a clear understanding of the challenges working families face today, but that is she is passionate and personally committed to improving childcare in this country."
Wallner, who is currently serving her 14th term in the New Hampshire House, was named Majority Leader in December after state Democrats regained the majority in both the House and Senate for the first time since 1874.
"I am thrilled and honored to have Mary Jane's support," said Senator Clinton. "We share a common passion and commitment to childcare and working families. She will be an asset to my campaign in New Hampshire, helping me to talk with families across the state about real, practical solutions to the challenges we face."
Senator Clinton spoke this afternoon at an EMILY's List luncheon and announced that she is reintroducing the Paycheck Fairness Act, a measure that would ensure that women are paid the same as men who do equal work. The legislation is explained in detail by Hillary in a "HillCast" posted on her website www.hillaryclinton.com. EMILY's List also kicked off its formal support for Hillary's campaign, saying it would mobilize its activists and donors to propel her to the presidency.
"I am asking mothers and daughters across America to join us in this groundbreaking effort," said Clinton. "Together we can break that highest glass ceiling and elect the first woman President. Just think of the message of new and unlimited possibilities that will send to our children and grandchildren."
Women are the "X factor" in this upcoming election -- more than 54% of general election voters will be women. And Hillary has already proven hugely popular among women, winning 73 percent of the women's vote in her landslide re-election to the Senate last fall.
The Women for Hillary efforts will mobilize women voters around a massive outreach effort on the Internet and local events held by Hillary supporters. A key piece of the grassroots effort will be an online initiative called "I Can Be President." Hillary will launch later this month an "I Can Be President" web site to invite women across the country to express their support for Hillary's candidacy and join her Women Leaders Network. Supporters will be able to find and plan events in their communities as well as take part in live web chats with the women running Hillary's campaign.
Women supporting this effort include the first woman Secretary of State Madeleine Albright, the first woman Vice Presidential Candidate Geraldine Ferraro, tennis great Billie Jean King, former Head of the Small Business Administration Aida Alvarez, former President of the America Bar Association Martha Barnett, former CEO of the Discovery Channel, Judith McHale and several women members of Congress.
Wallner, who has spent much of her career in the legislature working to increase financial support for children's daycare organizations, also serves on the Board of NH Healthy Kids, an organization that oversees the implementation of the state's children's healthcare programs. In addition to showing her commitment to New Hampshire families through the legislature, Wallner has a distinguished, nearly 35-year career as a childcare advocate. She currently serves as the executive director of the Blueberry Express Day Care Center in Pittsfield and for two locations of the non-profit Merrimack Valley Day Care Service in Concord that combined provide care for nearly 200 children, many of whom come from low and moderate income families.
The campaign will also place online ads on popular networking sites such as MySpace and Facebook to encourage women to get involved and help build a network of women leaders who can organize in peer groups, such as women doctors and young women. For more information on "Women for Hillary," please visit www.hillaryclinton.com/womenforhillary.
Hillary Clinton, Press Release - NH House Majority Leader Mary Jane Wallner Endorses Senator Clinton for President Online by Gerhard Peters and John T. Woolley, The American Presidency Project https://www.presidency.ucsb.edu/node/293580