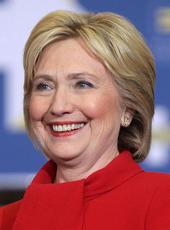 Press Release - NH for Hillary Names Veteran Leadership
New Hampshire Veterans Laud Hillary's Commitment to Veterans and Military Families
MANCHESTER, NH -- The New Hampshire for Hillary Clinton campaign today announced Bob Hannan will serve as the NH Veterans for Hillary Chair and Eleanor Glynn Kjellman will be the Chair of NH Military Families for Hillary. Hannan served a Veterans' Service Officer for 25 years at the Manchester Regional Veterans' Affairs Office. Kjellman is a State Representative and former Air Force Officer whose son served in Iraq.
"Hillary Clinton clearly understands the unique needs of troops, veterans, and their families and she is the best qualified to get us out of Iraq responsibly," said Hannan, who was the Chairman of Veterans for Kerry as well. "I am proud to support Senator Clinton and talk with New Hampshire veterans about her unwavering commitment to them and their loved ones."
Both Hannan and Kjellman will help lead the campaign's ongoing conversation with New Hampshire veterans and their families on issues that matter most to them.
"As a former Air Force Officer with a long family history of military service, I believe that Senator Clinton has demonstrated that she is the candidate best suited to make sure our men and women in the armed services have the resources and benefits they deserve," said Kjellman.
Senator Clinton has been a champion for on behalf both active duty and retired military personnel.
Earlier this month, Senator Clinton sponsored 21st Century GI Bill of Rights Act of 2007 to make more education and financial benefits available to all service members who've served overseas in combat operation since September 11, 2001, as well as Active Duty personnel who've served a minimum of two years since then. National Guard and Reserve personnel who've served a minimum of aggregate of two years on Active Duty since September 11, 2007 would also be eligible for benefits. In New Hampshire, there are 2,700 National Guard and Air and Army National Guard and more than 1,500 of whom have been deployed to Iraq and Afghanistan in the last three years.
Senator Clinton's new GI Bill would extend the current program benefits under the Montgomery GI Bill to help more soldiers. Some of those benefits include funding eight semesters of undergraduate education for service members and expanding access to home and small business loans. More specifically, the bill would increase veterans housing opportunities by exempting them from paying loan fees and would expand their ability to purchase, build, repair or improve a home. The bill would also establish a Veterans Microloan Program to provide veterans microloans for entrepreneurial ventures up to $100,000 with interest rates capped at 2.5 percent and without requiring collateral.
The 21st Century GI Bill of Rights Act is endorsed by veterans service organizations including: The Reserve Officers Association, The Veterans of Foreign Wars, AmVets, Military Officers Association of America, and the Non-Commissioned Officers Association.
Information on Senator Clinton's leadership on commitment to fighting for veterans and their families can be found here:
Hillary Clinton, Press Release - NH for Hillary Names Veteran Leadership Online by Gerhard Peters and John T. Woolley, The American Presidency Project https://www.presidency.ucsb.edu/node/293575