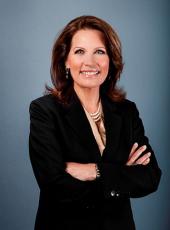 Press Release - "Newt Romney" Supported the TARP Bailout for Big Wall Street Banks
Former House Speaker Newt Gingrich and Former Massachusetts Governor Mitt Romney both advocated for passage of the 2008 TARP bailout for big Wall Street banks while Michele Bachmann was fighting and voting against it.
Gingrich: "There was a long, painful, hard negotiation. And the fact is that they dramatically improved the bill. I said this morning if I had been in the Congress, I would have hated it, it makes me very angry, but I would have voted yes….It was still not a good bill, but it was dramatically better." ("On the Record with Greta Van Susteren," Fox News Channel, www.foxnews.com, 9/29/2008)
Romney hailed TARP as a "success" as it headed toward passage: "…you know, this is a bipartisan accomplishment, a bipartisan success." ("McCain camp claims credit over bailout changes," AFP, afp.google.com, 9/29/2008)
Gingrich praised then-Republican presidential nominee John McCain's last minute involvement in securing TARP's passage: "This is the greatest single act of responsibility ever taken by a presidential candidate and rivals President Eisenhower saying, 'I will go to Korea.'" (Eleanor Clift, "Troublemaker," Newsweek, www.thedailybeast.com , 9/24/2008)
Romney has continued to defended TARP as a current presidential candidate: "There is no question but that the action of President Bush and that Secretary Paulson took was designed to keep not just a collapse of individual banking institutions, but to keep the entire currency of the country worth something and to keep all the banks from closing, and to make sure we didn't all lose our jobs. My experience tells me that we were on the precipice, and we could have had a complete meltdown of our entire financial system, wiping out all the savings of the American people. So action had to be taken." ("Mitt Romney Defends TARP At Debate,"RealClearPolitics.com, 10/11/2011)
Gingrich's recent explanations of his last minute support of TARP smack of crony capitalism. "Gingrich informed a crowd in Davenport, Iowa that, 'I was very biased against it [T.A.R.P.] and had opposed it all the previous week. I had a number of very, very successful businessmen who called me and said that you need to understand, this system is on the edge of total meltdown. These were people who weren't politicians. They weren't liberals. Some of them were very right wing. But they said this is a true crisis. This is like having a heart attack, this is a true crisis.'" (Craig Robinson, TheIowaRepublican.com, 12/6/2011)
Michele Bachmann believes that both the Bush and Obama administrations greatly overstepped their bounds when they acted to intervene in the private markets, insisting on bailouts. Bachmann believes that intervening in private enterprises creates a precedent that not only contradicts the essence and evolution of a free-market economy, but is an unsustainable policy for the future.
Bachmann voted against the bailouts that intervened in the private market:
American Recovery and Reinvestment Act of 2009 (PL 111-16)
Troubled Asset Relief Program (PL 110-343)
Auto Industry Financing and Restructuring Act (110th Congress: H.R. 7321)
Housing and Economic Recovery Act of 2008 (PL 110-289)
Sponsored — To Repeal the Dodd-Frank Wall Street Reform and Consumer Protection Act (112th Congress: H.R. 87).
Cosponsored — GSE Bailout Elimination and Taxpayer Protection Act (112th Congress: H.R. 1182).
Cosponsored — TARP Repayment and Termination Act of 2009 (111th Congress: H.R. 2745).
Cosponsored — Providing that the Congress should stop passing massive Government bailouts (111th Congress: H.Res.199).
Michele Bachmann, Press Release - "Newt Romney" Supported the TARP Bailout for Big Wall Street Banks Online by Gerhard Peters and John T. Woolley, The American Presidency Project https://www.presidency.ucsb.edu/node/298838