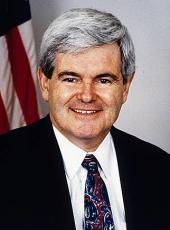 Press Release - Newt Opens New Hampshire Headquarters, Meets With Veterans
Yesterday, Newt and Callista were in New Hampshire to meet with supporters and open the state headquarters office in Manchester. About 100 supporters packed in to the office, as Newt took questions and challenged President Obama to seven Lincoln-Douglas debates. From the Concord Monitor:
Newt Gingrich officially opened his New Hampshire headquarters yesterday afternoon at 968 Elm Street in Manchester, and he's got a hunch he's going to do "very, very well."

"Everybody who assumed that a particular former governor of a neighboring state was automatically going to dominate New Hampshire is in for a great shock," Gingrich, 68, told about 100 supporters as his wife Callista looked on.

But his real target seemed to be President Obama, whom Gingrich would challenge to seven, three-hour-Lincoln-Douglas debates in the general election -- that is, if Gingrich wins the nomination.

"If (Obama) wants, he can use a teleprompter," Gingrich said.
Before the office opening in Manchester, Newt visited with veterans and supporters at The Circle Restaurant in Epsom.
"We've always been impressed with Newt," said Nanci Breagy, a 63-year-old retiree who lives in Epsom with her husband Jim, 77.

"He's just amazing," she said.

Just a few minutes earlier, the Breagys had listened as Gingrich explained how great a crisis a nuclear-armed Iran poses to Israel.

"How do you hold this (information) up in here," Jim Breagy eventually asked Gingrich, pointing to his own head.

Breagy wasn't the only one. Many of the dozens present said they admired Gingrich's knowledge of history, his work with Democrats as House speaker and his bold debate performances.

His supporters - many wearing Gingrich stickers on their chests - were tired with the growth of the federal government.

...

Gingrich gave no speech and instead worked the room, answering and asking questions, working references to his personal life into the conversations. For example, his house in Virginia was damaged in the August earthquake that shook the East Coast, he told one man.

"It turns out an earthquake does a surprising amount of damage," he said.

As Gingrich ate a ham-and-mushroom omelet (he paid in cash), he spoke with a man who said he had been a Navy SEAL. Gingrich asked him to write a note to his 10-year-old grandson, who has been reading books about SEAL Team Six, which killed Osama bin Laden. The man obliged, writing on a piece of legal paper.
At The Circle Resturaant, the Boston Globe interviewed a former Romney supporter who switched his vote to Newt after he was "blown away" by his debate performances.
"None of the other candidates to me seems like they have a clue what's happening overseas,'' said Jim Marsden, a 49-year-old former Navy Seal who talked with Gingrich for 20 minutes. "With Newt, you have intelligence, you have commitment to detail and foreign policy experience.''

Marsden said he had been planning to vote for Romney but decided to back Gingrich after he was "blown away'' by the former speaker's performance in the debates. Another veteran at Marsden's table also praised Gingrich on his debate performances - "especially telling the press off.''
Newt Gingrich, Press Release - Newt Opens New Hampshire Headquarters, Meets With Veterans Online by Gerhard Peters and John T. Woolley, The American Presidency Project https://www.presidency.ucsb.edu/node/298177