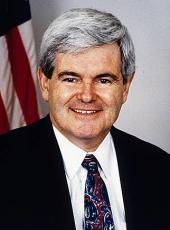 Press Release - Newt Goes Back to History Professor Roots as He Speaks to Students at New England College
Originally posted at ConcordMonitor.com
By Molly Connors
On Thursday night at New England College Newt spoke to a group of students following President Obama's speech.

Newt Gingrich is a candidate for president and a former House speaker, but he called on his roots as a college history professor to woo voters at New England College last night.

Many of the 100 or so gathered said they were Republicans or conservatives; it was President Obama who warmed up the crowd. About 35 people watched Obama's address to a joint session of Congress with Gingrich in the New England College Pub before crossing the hall to the Great Room at the Simon Center to hear the former speaker's reaction.

As they watched Obama's address, the crowd expressed their own frustration. One counted aloud each time Obama told Congress to act "right now." Others kept a running dialogue with the president.

"This isn't grandstanding," Obama said of the American Jobs Act.

"Oh no?" one called out from a booth in the back.

"This isn't class warfare," Obama said.

"Oh no?" the same man said.

When Obama said the act would benefit veterans, teachers, first responders, construction workers and young people, another said loudly, "The perfect Democratic constituency!"

But when they brought their growing frustrations about the stagnating economy and the belief that Obama's plans would not improve its plight to the town hall meeting, Gingrich, who opened the discussion by saying academic settings were perfect for such discussions, said little directly about Obama's speech.

He spent the first 15 minutes or so listening to about 16 people speak their minds. He later asked if they thought Obama's speech was effective - a handful said yes, about a dozen said no.

"I don't believe for one minute he's going to roll back … regulations," Karen Davis said of Obama's pledge to appoint a committee to review government regulations with an eye to eliminating unnecessary ones. A retired school teacher in her 60s, Davis now lives in Colorado and is visiting her sister in New Hampshire. She said she is dismayed at the current state of American education, but she likes the former Georgia congressman, who resigned his post in 1999.

"We need more historians like him," she said.

And Gingrich called on history to make his points.

Flanked by color-coded charts that compared job growth under President Ronald Reagan's administration to Obama's so far, Gingrich, 61, pledged to follow policies in the spirit of Reagan, not Obama.

"It's easier to imitate than it is to invent," Gingrich said.

He'd eliminate the capital gains tax, cut the corporate tax rate from 35 percent to 12.5, replace the Environmental Protection Agency with an "Environmental Solutions Agency," abolish the estate tax and repeal the Dodd-Frank bill, which changed the way the government regulates areas such as the derivatives markets and corporate governance but demands more reporting requirements of banks.

"If you just repeal Dodd-Frank, you help every small bank in the country," he said.

Gingrich also said he would repeal "Obamacare," the sweeping health care overhaul Obama signed in March 2010. Gingrich's opposition to the new law prompted the only "boos" of the night - from a woman standing in the back of the room.

"So there's some disagreement," Gingrich said.

Listening politely at the front of the room was Erich Caron, a 32-year-old junior at New England College. An Army veteran studying history and political science who has five kids at his home in Bradford, Caron said he enjoys every time a political candidate comes to campus. Gingrich was no exception - he was "interesting," said Caron, who is the NEC student senate president.

"It wasn't preaching, it was more like explaining," he said.
Newt Gingrich, Press Release - Newt Goes Back to History Professor Roots as He Speaks to Students at New England College Online by Gerhard Peters and John T. Woolley, The American Presidency Project https://www.presidency.ucsb.edu/node/298110