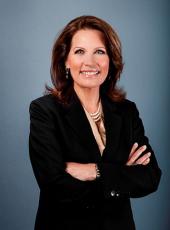 Press Release - Newt Gingrich's Open Door to Illegal Immigrant Amnesty
Former House Speaker Newt Gingrich receives applause when he calls for declaring English the official language of American government, but his immigration policy effectively equates to amnesty for foreigners residing in the United States unlawfully.
In the Reagan Library debate in September, Speaker Gingrich admitted he favored a path other than enforcing existing law regarding illegal immigrants:
"…find a way to deal with folks who are already here, some of whom, frankly, have been here 25 years, are married with kids, live in our local neighborhood, go to our church. It's got to be done in a much more humane way than thinking that to automatically deport millions of people." ("2012 Republican Presidential Candidates Debate," NBC, transcript: www.nytimes.com, 11/7/2011)
This stance echoed an earlier sentiment Speaker Gingrich expressed at his own forum in December 2010:
"'We are not going to deport 11 million people,' Gingrich said Thursday as he kicked off his first forum on Latino issues. 'There has to be some zone between deportation and amnesty.'" ("Newt: 'We are not Going to Deport 11 Million People'," FoxNews.com; nation.foxnews.com, 12/2/2010)
When discussing the DREAM Act at the same forum, Speaker Gingrich explained every person living in the United States, regardless of legal status, deserved "the opportunity to grow more prosperous":
"We have to find policies that extend to every American, and that includes people who are not yet legal, every American, the opportunity to pursue happiness, the opportunity to have a work ethic, the opportunity to grow more prosperous." (The Laura Ingraham Show, "In heated exchange, Newt Gingrich clarifies immigration stance", http://www.youtube.com/watch?v=6e60tSGkYYk, 12/3/2010)
During the debate over immigration reform that raged during the George W. Bush Administration, Gingrich joined other open-borders Republicans in supporting Bush's regrettable proposal for illegal alien amnesty.
"The status quo is unacceptable and clinging to the status quo — or tougher versions of it — is neither conservative nor principled. It has become clear that the only viable approach to reform is combining enforcement with additional legal avenues for those who wish to work in our economy, while also addressing the situation of those already here in the U.S.
"President Bush has proposed a new legal path to work in the U.S. through a temporary worker program that will match willing workers with willing employers. We applaud the president and believe his approach holds great promise to reduce illegal immigration and establish a humane, orderly, and economically sensible approach to migration that will aid homeland security and free up border-security assets to focus on genuine threats. The president has shown courage by calling on Congress to place reality over rhetoric and recognize that those already working here outside the law are unlikely to leave. Congress can fulfill its role by establishing sufficient increases in legal immigration and paths to permanent residence to enable more workers to stay, assimilate, and become part of America." ("Conservatives Join Together to Support Immigration and Immigration Reform," National Foundation for American Policy, www.nfap.com, 2/6/2004)
As Speaker of the House for four years, Gingrich may have spoken up for stronger enforcement but he ultimately failed to secure the border or significantly staunch the flow of illegal immigrants into the United States. In fact, he helped legalize hundreds of thousands.
"[Gingrich was] instrumental in passing legislation that allowed hundreds of thousands of Central American refugees become legal permanent residents of the United States." (Kendra Marr, "Newt Gingrich's 2012 immigration dance," Politico, www.politico.com, 4/22/2011)
Michele Bachmann believes the United States must enforce our immigration laws, period. The failure of the federal government to enforce immigration laws costs federal, state and local governments billions of dollars annually. Our nation was founded on the rule of law, and we must ensure U.S. immigration laws are respected and enforced not only to preserve our national security, but to protect federal, state, and local budgets, and to curb the unfair strain on our country's job markets.
America should always welcome, without any trace of discrimination, all legal immigrants. But the emphasis must be on the word "legal." And we must have an equal emphasis on border security and homeland security. The Obama Administration, like previous administrations and Congresses controlled by both parties has failed us on both scores.
The last time our immigration laws were overhauled was in 1986, with amnesty granted to three million illegal immigrants. At the time, Americans voters were led to believe this would solve our immigration problem. However, since then the number of illegal immigrants has quadrupled (by conservative estimates). Rather than repeating the mistakes of the past, we must do everything we can to secure our nation's borders. We need to push for more Border Patrol officers, and stand by them. We need to complete the border fence across the entire US-Mexico frontier, make E-Verify mandatory, and eliminate funding for states and cities that knowingly harbor illegal immigrants.
Additionally, states like Arizona must not be ostracized for trying to protect their borders, simply codifying state enforcement of federal law, nor should they face reprisal from a federal government that has failed in its responsibility to enforce immigration laws.
Michele Bachmann, Press Release - Newt Gingrich's Open Door to Illegal Immigrant Amnesty Online by Gerhard Peters and John T. Woolley, The American Presidency Project https://www.presidency.ucsb.edu/node/298977