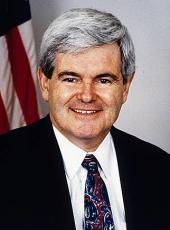 Press Release - Newt: Competent, Consistent, Calm, Convincing and Catholic
In a must-read column entitled "Candidate Newt Gingrich: Competent, Consistent, Calm, Convincing and Catholic," Deacon Keith Fournier, the Editor in Chief at Catholic Online, writes about Newt's calm, competent debate performances and his conversion to Catholicism.
However, I must admit that it was his faith journey in later life which made my respect for him become something more, admiration. I have learned in my own life that the past is either a tutor or a millstone. For Newt Gingrich, a man comfortable in his own skin, the past has become a tutor.

This Professor has learned that we are always students. His response to questions concerning his own past reveal the wisdom borne of experience, infused with real faith. It is not how many times we fall down, but whether we get up and learn how to walk.

In an article in the National Catholic Register in 2011 entitled "Why I Became a Catholic" Newt bore witness to the journey which brought him into the Catholic Church. It is the story of an intellectual - who is also a "down to earth" man. It is also similar to numerous other journeys in the history of converts to the Catholic Christian faith.

Newt's Catholic journey was not a dramatic "Damascus" experience such as the one recorded in the Acts of the Apostles which captured the Apostle Paul for Christ and His Church.(See, Acts 9) Rather, it was a slow and steady attraction to the fullness of truth - and the beauty - contained within the fullness of Christianity found within the Catholic Church.

He began - and then ended - this wonderful account with these words, "I am often asked when I chose to become Catholic. However, it is more truthful to say that over the course of several years I gradually became Catholic and then decided one day to accept the faith I had already come to embrace. After a decade-long - perhaps lifelong - faith journey, I was finally home."

...

It comes as no surprise that Newt Gingrich's poll numbers are beginning to climb. His performance in the Presidential debates demonstrates that he is competent, consistent, calm and convincing. He is clearly Pro-Life, defends the primacy of marriage and the family and society founded upon it and is a passionate defender of authentic freedom. He is also a man with ideas and the ability to articulate them.

The pundit class is finally beginning to take the candidacy of this intelligent and gifted man seriously. He shows calm in the chaotic displays called debates and stands out. In an age filled with crisis, suffering under ill informed and ineffective leaders, such calm and competence are refreshing. Visit the Gingrich campaign's web site and see where he stands on the vital issues.
Newt Gingrich, Press Release - Newt: Competent, Consistent, Calm, Convincing and Catholic Online by Gerhard Peters and John T. Woolley, The American Presidency Project https://www.presidency.ucsb.edu/node/297920