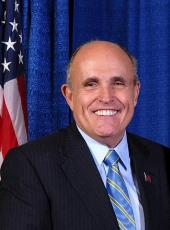 Press Release - New York State Senate Majority Leader and Assembly Republican Leader Endorse Rudy Giuliani for President
In another sign of the strong support Rudy Giuliani is securing across New York state, over fifty current and former members of the New York State Senate and New York State Assembly endorsed his campaign for President today. Senate Majority Leader Joseph L. Bruno and Assembly Republican Leader Jim Tedisco presented the endorsement to Rudy Giuliani in Albany, New York.
"Rudy Giuliani has been called America's Mayor and it is now time for him to be America's President. His experience, his character and his ability to lead make him the most qualified candidate to serve in our nation's highest office," said Senate Majority Leader Joseph L. Bruno. "My colleagues in the State Senate and I are proud to be a part of Rudy Giuliani's New York team, a team that is growing stronger every day."
"Long before he was America's Mayor, Rudy Giuliani turned around a city everyone said was ungovernable. He did it with the same principles he displayed on September 11th and on the days and weeks that followed — moral clarity, strong leadership and accountability," said Assembly Republican Leader Jim Tedisco. "We need Rudy Giuliani for President the same way New Yorkers needed him for Mayor in 1993 and the same way this country needed his strong leadership in the days following September 11th. Rudy is the candidate who understands the terrorists' war on us and will tackle this difficult challenge head on."
"We are thrilled to have the support of Senate Majority Leader Bruno, Assembly Republican Leader Tedisco and the over fifty current and former members of the Senate and Assembly," said campaign manager Michael DuHaime. "The support Rudy is seeing from Republican leaders in his home state speaks volumes about his strong leadership and record of results while serving as Mayor of New York."
Joseph L. Bruno was first elected to represent New York's 43rd State Senate District (Rensselaer County and most of Saratoga County) in 1976. As the Temporary President of the Senate, Senator Bruno is Chairman of the Rules Committee and an ex officio member of all Senate standing committees and statutory commissions.
James Nicholas Tedisco was first elected to the Assembly in 1982. On November 29, 2005, he was unanimously elected Minority Leader by his colleagues. Throughout his tenure, Tedisco has been a leader and outspoken advocate for reforming state government and the budget process.
STATE SENATE

Senate Majority Leader Joseph F. Bruno (NY-43)

Senator John Flanagan (NY-2)

Senator Caesar Trunzo (NY-3)

Senator Kemp Hannon (NY-6)

Senator Dean G. Skelos (NY-9)

Senator Serphin Maltese (NY-15)

Senator Martin J. Golden (NY-22)

Senator Thomas P. Morahan (NY-38)

Senator William "Bill" Larkin. (NY-39)

Senator John J. Bonacic (NY-42)

Senator Hugh T. Farley (NY-44)

Senator Elizabeth O'C. Little (NY-45)

Senator John A. DeFrancisco (NY-50)

Senator James Seward (NY-51)

Senator Thomas W. Libous (NY-52)

Senator Michael F. Nozzolio (NY-54)

Senator Catharine Young (NY-57)

Senator George D. Maziarz (NY-62)

Former State Senator Nick Spano

Former State Senator Robert DiCarlo
ASSEMBLY MEMBERS:

Assemblyman & Minority Leader James Tedisco (NY-110)

Assemblyman Fred Thiele (NY-2)

Assemblyman Michael Fitzpatrick (NY-7)

Assemblyman Andrew Raia (NY-9)

Assemblyman Jim Conte (NY-10)

Assemblyman Bob Barra (NY-14)

Assemblyman Rob Walker (NY-15)

Assemblyman Thomas McKevitt (NY-17)

Assemblyman David McDonough (NY-19)

Assemblyman Thomas Alfano (NY-21)

Assemblyman Lou Tobacco (NY-62)

Assemblyman Michael Spano (NY-93)

Assemblywoman Nancy Calhoun (NY-96)

Assemblywoman Ann Rabbitt (NY-97)

Assemblyman Thomas Kirwan (NY-100)

Assemblyman Joel Miller (NY-102)

Assemblyman Marcus Molinaro (NY-103)

Assemblyman Clifford Crouch (NY-107)

Assemblyman Roy McDonald (NY-112)

Assemblywoman Teresa Sayward (NY-113)

Assemblywoman Janet Duprey (NY-114)

Assemblyman David Townsend (NY-115)

Assemblyman Marc Butler (NY-117)

Assemblywoman Dierdre Scozzafava (NY-122)

Assemblyman Gary Finch (NY-123)

Assemblyman William Barclay (NY-124)

Assemblyman Peter Lopez (NY-127)

Assemblyman Robert Oaks (NY-128)

Assemblyman Brian Kolb (NY-129)

Assemblyman Bill Reilich (NY-134)

Assemblyman James Bacalles (NY-136)

Assemblyman Jack Quinn (NY-146)

Assemblyman Jim Hayes (NY-148)

Former Assemblyman & Minority Leader John Faso

Former Assemblyman Robert Straniere

Former Assemblyman Bobby D'Andrea

Former Assemblyman Donald Davidsen

Former Assemblyman Arnaldo Ferraro

Former Assemblyman Hy Miller

Former Assemblyman Matthew Mirones

Former Assemblyman Robert Nortz

Former Assemblyman Douglas Prescott
Rudy Giuliani, Press Release - New York State Senate Majority Leader and Assembly Republican Leader Endorse Rudy Giuliani for President Online by Gerhard Peters and John T. Woolley, The American Presidency Project https://www.presidency.ucsb.edu/node/295333