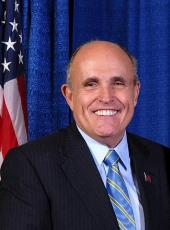 Press Release - New York Republican State Committee Chairman Joseph Mondello Endorses Rudy Giuliani
Mayor Rudy Giuliani continued to build his growing New York Leadership Team today with New York Republican State Committee Chairman Joseph Mondello announcing his support. Rudy Giuliani also received endorsements from over fifty Republican County Chairmen and County Executives.
"Mayor Giuliani is honored to have the endorsement of Chairman Mondello and a vast majority of the Republican chairs from his home state. These Republican leaders know first hand the Mayor's record of strong leadership and proven results," campaign manager Michael DuHaime said.
"The support for 'America's Mayor' continues to grow across the state and throughout the nation because of his world-renowned reputation for leadership, character and ability," said New York State Republican Chairman Joseph Mondello. "I am proud to represent the County Chairmen of New York State by endorsing Rudy Giuliani and announcing our commitment to work tirelessly to make him the next President of the United States of America."
Bill Powers, former New York State Republican Committee Chairman and co-chair of Rudy Giuliani's New York state campaign said, "As a former New York Republican State Committee Chairman, I know full well the value these endorsements add to the campaign. From the top of the ticket all the way to the bottom, the New York Republican Party today has assured itself a fighting chance in 2008."
"These individuals are a great addition to Team Rudy and are indicative of the strong support Mayor Giuliani is receiving across New York," concluded Guy Molinari, co-chair of Giuliani's New York state campaign. "I look forward to working closely with each one of these Republican leaders as we work to put our hometown candidate in the White House."
Chairman Mondello served for twenty-three years as Chairman of the Nassau County Republican Committee, and served as the Republican National Committeeman for the State of New York from 1992 to 2004. He was elected Chairman of the New York State Committee in November 2006.
Republican County Chairmen:
Joseph "J" Savino, Bronx

Sharon M. Exley, Broome

Jerry Burrell, Cattaraugus

Cherl Heary, Cayuga

John Walker, Chautauqua

John Meier, Chemung

Thomas L. Morrone, Chenango

William Favreau, Clinton

Angelo Valentino, Columbia

Robert Howe, Cortland

Martin Donnelly, Delaware

Jim Domagalski, Erie

Ronald Jackson, Essex

James Ellis, Franklin

Dexter Risedorph, Fulton

Richard E. Siebert, Genesee

Brent Bogardus, Greene

William Farber, Hamilton

Marty Smith, Herkimer

Sandra Corey, Jefferson

Craig Eaton, Kings

Lowell Conrad, Livingston

Michael St. Leger, Madison

Lore Koppel, Montgomery

Joseph Mondello, Nassau

Jennifer Saul Yaffa, New York

Henry Wojtaszek, Niagara

Mark Scheidelman, Oneida

John DeSpirito, Onondaga

Jay Dutcher, Ontario

Bill DeProspo, Orange

Ed Morgan, Orleans

Charlotte Koniuto, Otsego

Anthony G. Scannapieco, Jr., Putnam

Philip Ragusa, Queens

Jack Casey, Rensselaer

John Friscia, Richmond

Vincent Reda, Rockland

John Nolan, Saratoga

Thomas Buchanan, Schenectady

Lewis Wilson, Schoharie

Philip Barnes, Schuyler

Angelo Bianchi, Seneca

William Hatch, Steuben

Harold Withers, Suffolk

John LiGreci, Sullivan

Don Leonard, Tioga

Elizabeth Cree, Tompkins

Peter Savago, Ulster

Michael Grasso, Warren

RoseMarie Panio, Westchester

Gordon Brown, Wyoming

Jack Clancy, Yates
County Executives:

Gregory J. Edwards, Chautauqua

Thomas J. Santulli, Chemung

Joel A. Giambra, Erie

Edward A. Diana, Orange

Kathleen M. Jimino, Rensselaer

James Molinaro, Richmond (Borough President)

C. Scott Vanderhoef, Rockland
Rudy Giuliani, Press Release - New York Republican State Committee Chairman Joseph Mondello Endorses Rudy Giuliani Online by Gerhard Peters and John T. Woolley, The American Presidency Project https://www.presidency.ucsb.edu/node/295321