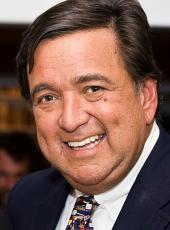 Press Release - New Mexico Governor Bill Richardson Challenges President Bush to Renew Commitment to Comprehensive, Fair Immigration Reform
Richardson says May 1 should mark the beginning of a new effort to pass real reform and move past partisan gridlock
SANTA FE, NM -- New Mexico Governor Bill Richardson today called on President Bush to renew his previous commitment to passing comprehensive immigration reform and reject the unworkable and divisive laws favored by extremists. The Governor issued the challenge on the eve of the one-year anniversary of nationwide protests by as many as one million immigrants and those who support implementing a practical and humane immigration system in the United States.
"A year has passed since these remarkable and emotional demonstrations and not only has there been no progress, the country is even more divided and frustrated than before," said Governor Richardson. "Once again the administration has failed to follow through on its pledge to address one of the most serious issues facing our country. I am disappointed the President has retreated from his previous position favoring realistic reform to a position that virtually guarantees nothing will be accomplished."
The Governor stated that the President's plan to require undocumented immigrants to pay $10,000, return to their home country and apply for legal entry into the country is unworkable.
"The majority of illegal immigrants in the United States are hardworking, law-abiding people trying to improve the lives of their families. They don't have that kind of money, and it is unreasonable to force them to leave the country. What about children who are US citizens? Breaking up families is not an answer. All this would do is force immigrants farther into the shadows."
Bill Richardson is the Governor of a border state and deals with the effects of immigration, legal and illegal, virtually every day. He has proposed a detailed, realistic plan for comprehensive immigration reform that would help secure our borders, bring the estimated 11-12 million illegal immigrants out of the shadows, and help strengthen our economy:
The US must first secure its borders, and do it by doubling the number of Border Patrol agents and providing the latest technology to monitor remote areas. The Governor also believes the border fence will not work, sends the wrong message, and should be torn down;
There must be a practical, humane plan to give illegal immigrants a path to legalization, and eventually a path to citizenship. Immigrants must be law-abiding and pass a background check, pay any back taxes and a fine for entering the country illegally, they must learn English, and they would not jump in front of those applying to enter the country legally. Eventually, after meeting all specified requirements they would be granted legal residency and ultimately would be allowed to apply for citizenship;
Employers who knowingly hire illegal workers should be hit with stiff penalties. These laws have been on the books for years but have not been enforced;
The United States should significantly increase the number of legal immigrants allowed into the country, based on employer needs; and
The US should engage Mexico and convince the Mexican government to do its part to stop the northward flow of illegal immigrants. Last fall, Governor Richardson spoke with Mexican President Calderon, who admitted that Mexico should have a role in solving this problem. The two countries should also work together on economic development efforts, especially in the border region, and should initiate joint border law enforcement patrols to reduce violence, drug smuggling, and illegal immigration.
Bill Richardson, Press Release - New Mexico Governor Bill Richardson Challenges President Bush to Renew Commitment to Comprehensive, Fair Immigration Reform Online by Gerhard Peters and John T. Woolley, The American Presidency Project https://www.presidency.ucsb.edu/node/294649