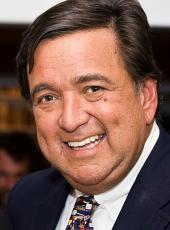 Press Release - New Mexico Governor Bill Richardson Challenges Bush Response to Supreme Court Ruling
Richardson to unveil a bold new energy plan which will revolutionize America's fight against global warming and for energy independence at speech to the New American Foundation on Thursday, May 17th in Washington, DC
SANTA FE, NM - Governor Bill Richardson today challenged President Bush's response to the Supreme Court ruling requiring federal agencies to regulate vehicle emissions.
"The 'debate' on global warming is over and the Supreme Court has ordered this administration to stop dragging its feet and act," stated Governor Richardson. "My state joined twelve other states to challenge the Bush Administration to enforce the Clean Air Act and fought them all the way to the Supreme Court--and won. President Bush's decision to drag out the vehicle emission rulemaking process over the next two years rebuffs the Supreme Court's ruling and rejects the reality and urgency of global warming.
"This is a timid action, when America and the world needs bold action. My approach to solving our energy and global warming problem is market-based. I would use the engine of the market to drive bold and quick innovation. Our top priorities need to be focusing on a sharp reduction in oil demand, creating dramatic energy efficiencies, reducing greenhouse gases and restoring America as a leader in technology and science."
As Energy Secretary, he pushed for aggressive energy efficiency standards, conservation in the midst of the California electricity crisis, a national renewable portfolio standard, and development of alternative vehicles.
As Governor of New Mexico, Bill Richardson has initiated mandates requiring utilities to meet renewable energy requirements, supported generous solar tax incentives, eliminated sales taxes on hybrid vehicles, and set aggressive targets to reduce global warming pollution. New Mexico is on track to exceed the Kyoto Protocols and has become the Clean Energy State.
"Our next President must sharply reduce American demand for fossil fuels that add to greenhouse gas concentrations," said Richardson. "By doing so, the U.S. will reclaim its ability to participate in - and lead - international agreements to slow, stop, and reverse climate change trends. The United States cannot lead the world, and will not have the support of the world's people, unless it gets its energy addiction under control, and joins the world effort to take real steps reducing global warming pollution.
"We have no choice, but to make a change and fast. At peak, we now import 65% of our oil. We send about $300 billion in petrodollars to foreign countries every year. Our economy is half as energy-efficient as Japan's or Western Europe's. With 5% of the world's population, we account for 25% of global warming pollution.
In a speech to the New American Foundation Thursday morning at 10:00 am at the Washington Hilton, Monroe Room, 1919 Connecticut Avenue in Washington, DC Governor Richardson will unveil his comprehensive plan for energy and reducing global warming. The Governor's aggressive proposals directly address critical issues facing the United States- vehicle fuel efficiency, fuels made from renewable resources, green building standards, greenhouse gas emissions, and shifting the economy from fossil fuels to renewable energy.
"Baby steps and incremental measures won't work. We need to act boldly, and act now. We need a "man-on-the-moon effort"- a strong national commitment to get it done," said Richardson. "President Kennedy exhorted the nation to put a man on the moon within ten years, not 20 or 30. The nation responded to that call. We can do the same with energy and global warming.
"So what we need today is a ten-year plan to reduce our dependence on oil by 50%, and a ten-year plan to reduce our global warming pollution by at least 20%. As President, I will implement a bold plan that meets these goals and ushers in a new era of energy independence and security for the United States."
Bill Richardson, Press Release - New Mexico Governor Bill Richardson Challenges Bush Response to Supreme Court Ruling Online by Gerhard Peters and John T. Woolley, The American Presidency Project https://www.presidency.ucsb.edu/node/294558