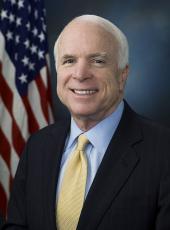 Press Release - New Jersey Veterans Respond to Gen. Wesley Clark's Attack on John McCain
WOODBRIDGE, NJ-- Vietnam Veterans across New Jersey today responded to Gen. Wesley Clark's attack on John McCain's military service record on CBS' "Face the Nation":
Col. Mike Warner, US Army (Ret.), issued the following statement:
"Senator McCain has shown leadership and commitment to his comrades while serving as a prisoner of war. His personal sacrifice and decades of service make him uniquely qualified to be Commander in Chief. General Clark's comments were ill-conceived and inappropriate. He should apologize to the veterans' community."
Colonel Mike Warner is a highly decorated soldier, receiving two Legions of Merit, two Bronze Stars, a Purple Heart, three Meritorious Service Medals, and the Army Commendation Medal. Additionally, he has received campaign medals for service in Vietnam and overseas service ribbons for his tours of duty in Europe and Korea. For his final assignment, Mike served as Commander of Fort Dix, in Burlington County, New Jersey.
Maj. Gen. Clark Martin, USAF (Ret.), issued the following statement:
"What qualifies Senator McCain to be Commander in Chief is the incredible mental and physical courage that he demonstrated as a prisoner of war for more than five years. I have a tremendous respect and affection for Senator McCain as do my fellow Vietnam Veterans."
Major General Clark Martin served as the Commander of the New Jersey Air National Guard. Gen Martin served with the 23rd Tactical Air Support Squadron, Nakon Phanom RTAFB, as a forward air controller in the O-2A during the Tet offensive. He flew 100 combat missions over North Vietnam. Maj. Gen. Martin received the Distinguished Flying Cross, the Meritorious Service Medal, the Air Medal with 11 oak leaf clusters, and a Vietnam Service Medal with 3 bronze service stars.
Airman Richard White, USN (1966-1968) issued the following statement:
"John McCain knows what it's like to sit in that that cockpit and take incoming fire. Combat missions over North Vietnam tested John McCain and taught him to react effectively to pressure. Senator Obama's never served in the military and it is appalling for his campaign to minimize Senator McCain's record."
Airman Richard White served as a plane captain on the U.S.S. Forrestal, receiving a Vietnam Service Medal with a bronze service star. Airman White was honorably discharged from the Navy after sustaining injuries in the Forrestal fire and was recognized for his heroism when he rescued his pilot from a burning plane.
BACKGROUND: On CBS' "Face The Nation" This Morning, Gen. Wesley Clark Attacked John McCain's Military Service Record
Gen. Wesley Clark, "Acting As A Surrogate For Barack Obama's Campaign, Invoked John McCain's Military Service Against Him In One Of The More Personal Attacks On The Republican Presidential Nominee This Election Cycle," And "Took A Few Swipes At McCain's Military Service." "Gen. Wesley Clark, acting as a surrogate for Barack Obama's campaign, invoked John McCain's military service against him in one of the more personal attacks on the Republican presidential nominee this election cycle. Clark said that McCain lacked the executive experience necessary to be president, calling him 'untested and untried' on CBS' 'Face the Nation.' And in saying so, he took a few swipes at McCain's military service." (Josh Kraushaar, "Clark Hits McCain's Military Credentials," Politic o, 6/29/08)
• Clark: "I don't think getting in a fighter plane and getting shot down is a qualification to become president." (CBS' "Face The Nation," 6/29/08)
• Clark: "He has been a voice on the Senate Armed Services Committee. And he has traveled all over the world. But he hasn't held executive responsibility. That large squadron in the Navy that he commanded -- that wasn't a wartime squadron." (CBS' "Face The Nation," 6/29/08)
John McCain, Press Release - New Jersey Veterans Respond to Gen. Wesley Clark's Attack on John McCain Online by Gerhard Peters and John T. Woolley, The American Presidency Project https://www.presidency.ucsb.edu/node/292075