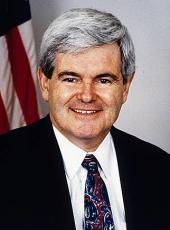 Press Release - New Hampshire Union Leader Endorses Newt for President
For President, Newt Gingrich

By JOSEPH W. McQUAID

New Hampshire Union Leader Publisher
This newspaper endorses Newt Gingrich in the New Hampshire Presidential Primary.
America is at a crucial crossroads. It is not going to be enough to merely replace Barack Obama next year. We are in critical need of the innovative, forward-looking strategy and positive leadership that Gingrich has shown he is capable of providing.
He did so with the Contract with America. He did it in bringing in the first Republican House in 40 years and by forging balanced budgets and even a surplus despite the political challenge of dealing with a Democratic President. A lot of candidates say they're going to improve Washington. Newt Gingrich has actually done that, and in this race he offers the best shot of doing it again.
...
Readers of the Union Leader and Sunday News know that we don't back candidates based on popularity polls or big-shot backers. We look for conservatives of courage and conviction who are independent-minded, grounded in their core beliefs about this nation and its people, and best equipped for the job.
We don't have to agree with them on every issue. We would rather back someone with whom we may sometimes disagree than one who tells us what he thinks we want to hear.
Newt Gingrich is by no means the perfect candidate. But Republican primary voters too often make the mistake of preferring an unattainable ideal to the best candidate who is actually running. In this incredibly important election, that candidate is Newt Gingrich. He has the experience, the leadership qualities and the vision to lead this country in these trying times. He is worthy of your support on January 10.
Newt Gingrich, Press Release - New Hampshire Union Leader Endorses Newt for President Online by Gerhard Peters and John T. Woolley, The American Presidency Project https://www.presidency.ucsb.edu/node/297720