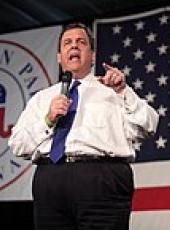 Press Release - New Hampshire Trailblazer Donna Sytek Endorses Chris Christie for President
First Female Speaker of the House, Former New Hampshire Republican Party Chair Supports Christie


For Immediate Release:
Tuesday, December 1, 2015
MORRISTOWN, NJ - Donna Sytek, New Hampshire's first female Speaker of the House and former chairman of the New Hampshire Republican Party, has endorsed Governor Chris Christie for President of the United States. Sytek will join Christie at a drug recovery roundtable discussion later today in Manchester.
"Our nation faces monumental challenges and our next President must have the leadership ability to tackle them directly and forthrightly. After meeting many of the Republican candidates for President, I believe that Governor Chris Christie is best prepared to lead our nation in these trying times," said Sytek. "Our national debt is prepared to reach $20 trillion by the time President Obama leaves office. Governor Christie was the first candidate in this campaign courageous enough to offer an entitlement reform plan that will protect these important programs for those who need them most while ensuring that they remain solvent for future generations."
Sytek, who is chairman of the New Hampshire Parole Board, noted, "Our prison population includes too many inmates who committed crimes to support a drug habit. Chris Christie has spoken compassionately about addiction and recovery in our society. He has a record of results in New Jersey, which has lowered recidivism and incarceration rates for nonviolent drug offenders. New Jersey's success under Governor Christie's leadership establishing drug courts that mandate treatment instead of incarceration is a model for the rest of the country."
"Donna is a trailblazer and a New Hampshire icon, but most importantly she is an advocate for giving non-violent offenders a second chance and a champion of drug rehabilitation efforts," said Governor Christie. "Her voice will be a valuable addition to our efforts in New Hampshire and along the campaign trail to bring awareness to the stigma of addiction."
Donna Sytek is a veteran of New Hampshire politics, having served as Speaker of the New Hampshire House of Representatives and chairman of the New Hampshire Republican Party. During 23 years as a state representative from Salem, she chaired several major committees including Judiciary, Ways and Means, and Criminal Justice. Since her retirement from the Legislature in 2000, Sytek has been elected to the boards of the New Hampshire Charitable Foundation, the New Hampshire Center for Public Policy Studies, and New Hampshire Catholic Charities. She currently serves as chairman of the New Hampshire Parole Board and as a member of the Legislative Ethics Committee.
Last year she was recognized by the Union Leader with the Granite State Legacy award and by NH Catholic Charities with the Above and Beyond award. She has received honorary Doctor of Laws degrees from St. Anselm College and her alma mater, Regis College. She is the author of "Further Ado: Practical Protocol for New Hampshire," published in 2003.
Chris Christie, Press Release - New Hampshire Trailblazer Donna Sytek Endorses Chris Christie for President Online by Gerhard Peters and John T. Woolley, The American Presidency Project https://www.presidency.ucsb.edu/node/311570