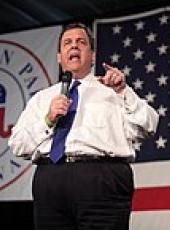 Press Release - New Hampshire Icon Toni Pappas Endorses Chris Christie for President
For Immediate Release:

Thursday, October 8, 2015
MORRISTOWN, NJ - This morning, Hillsborough County Commissioner Toni Pappas, who has represented Manchester, Bedford and New Boston for 14 years, announced her endorsement for Chris Christie's Presidential Campaign at his 26th New Hampshire town hall meeting.
"Governor Christie has delivered remarkable results for the people of New Jersey, and unlike politicians in Washington, DC, he did so while working with a legislature of the opposite party. He has reduced the size of government, vetoed more tax increases than any governor in American history and provided strong leadership in the most trying of times," said Pappas. "No other candidate has his experience and resolve, which will restore American leadership."
"Toni has a long record of public service in Manchester and is widely respected across New Hampshire. She brings tremendous experience and passion to our campaign, and I am grateful for her support," said Governor Christie.
Toni Pappas is a former state representative and is currently an account executive with Business NH Magazine. In 1999, she led the effort to draft Elizabeth Dole into the presidential campaign and was one of Dole's key supporters in New Hampshire.
Toni has served as President of the Manchester Historic Association. She is a member of the Manchester Rotary Club. She serves on the Boards of the NH Citizens for the Arts and the Manchester Community Health Center. Toni is former President of the New Hampshire Association of Counties.
Toni and her husband Billy volunteer their time to support scholar athletes through the Joe Yukica NH Chapter of the National Football Foundation. They assist with Greek community events including Greekfest and GLENDI. They also enjoy various sports and have run the Boston and New York City marathons together.
Toni joins the growing list of New Hampshire Republican leaders supporting Chris Christie for President including: GOP Activist Steven Steiner, North Conway, Navy Veteran Craig Fillmann, Glen, State Rep. Candidate and former member of "Students for Walker," Alexandria Knox, Manchester, GOP Activist & College Republican Parker Leonard, Auburn, College Republicans Secretary at Saint Anselm Cameron Lapine, Manchester, Steve Woods, Brentwood,Claire Stevens, Hudson, Kirsten Yellen, Manchester, John Gallagher, Manchester, Bill and Carol Gaffney, Nashua, Maria Sampson, Londonderry, William Stearns, Jr., Bedford, Doug Meteisis, Plaistow, Heidi Sturrock, Amherst David Sturrock, Amherst Paige Youschak, Laconia, Matt Withrow, Salem, U.S. Marine Corps, Lance Corporal Tom Eifler, Atkinson, Kevin Harrington Student Ambassador & College Republican Rachel Morel, Saint Anselm College, Manchester, Town Councilor Joe Green, Londonderry, Trustee of the Trust Funds Colin Costine, Chester, GOP Activist Simone Maloney, Manchester, U.S. Navy Veteran Jim Powers, Merrimack, U.S. Army Veteran Jane Powers, Merrimack, GOP Activist Stacy King, Manchester, GOP Activist Mike Mackley, Manchester, Small Business Owner Dale Dormody, Gilford, GOP Activist Noreen Johnson, Swanzey, GOP Activist Catherine Seltsam, Merrimack, Small Business Owner Paul Botta, New Boston, College Republican Vice Chair Brandon Pratt, St. Anselm College, Assistant Majority Leader Representative Steve Schmidt, former Mayor of Somersworth Matt Spencer, former New Hampshire Republican State Committee Chairman Wayne MacDonald, former Executive Councilor and Nashua Mayor Bernie Streeter, former US Attorney and Executive Councilor Tom Colantuono, Merrimack County Sheriff Scott Hilliard, Concord City Mayor Pro Tem and former Executive Councilor Dan St. Hilaire, Rockingham County Commissioner Tom Tombarello, Rockingham County Commissioner Kevin Coyle, business leader Dick Anagnost, business leader Bill Greiner, State Representative David Danielson, State Representative Susan Emerson, State Representative Bill Ohm, State Representative Don LeBrun, State Representative Betsy McKinney, State Representative Jack Balcom, State Representative Jim Devine, former Employment Security Commissioner Richard Brothers, former New Hampshire Republican Party Treasurer Robert Scott, former Grafton County Republican Committee Chairman Paul Simard, former State Representative Elaine Swinford, former State Representative Dennis Reed, former State Representative Karen Hutchinson, former Meredith Selectman and Conservative activist Hillary Seeger, former Contoocook Valley Republican Vice Chairman and Conservative activist Donna Marzullo, Nashua Republican Party activists Paul and Barbara Clark, Concord Republican Party activist Valery Mitchell, Concord Republican Party Treasurer Jim McConaha, Salem Republican Party Secretary Lisa Withrow.
Chris Christie, Press Release - New Hampshire Icon Toni Pappas Endorses Chris Christie for President Online by Gerhard Peters and John T. Woolley, The American Presidency Project https://www.presidency.ucsb.edu/node/311563