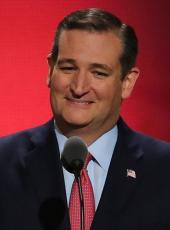 Press Release - New Hampshire Conservatives Coalesce Behind Cruz for President
U.S. Sen. Bob Smith, Rep. Bill O'Brien, Councilor David Wheeler to Chair Cruz NH Leadership Team of more than 40 conservative leaders across the state
HOUSTON, Texas — U.S. Sen. Ted Cruz, R-Texas, today announced more than 40 New Hampshire conservatives to his state leadership team, to be led by former U.S. Senator Bob Smith, New Hampshire Representative and former Speaker William O'Brien, and Executive Councilor David K. Wheeler.
"I am thrilled to have all of these courageous conservatives join our campaign in New Hampshire and honored to have Bob Smith, Bill O'Brien and David Wheeler leading this team," said Sen. Cruz. "I couldn't ask for a stronger, more equipped group of patriots at the helm of our ground game in New Hampshire."
Sen. Smith, Speaker O'Brien and Councilor Wheeler today held a press conference with other members of the leadership team to voice their support for Sen. Cruz's leadership and endorsement of his candidacy, noting that he is the only candidate positioned to being real change to the status quo in Washington.
"As a former United States Senator I have seen firsthand the difficulty in challenging the status quo in the halls of power. Changing Washington will require exceptional leadership. Ted Cruz is that exceptional leader," said former US Senator Bob Smith. "I knew Ronald Reagan. Ronald Reagan was a friend of mine. And let me tell you, as one conservative to another, Senator Ted Cruz is a lot like Ronald Reagan."
"In my experience as a legislative leader, there is a tremendous resistance to change how government operates. Too many politicians claim to be the change we need, but once elected simply fail to deliver," said Representative Bill O'Brien. "Ted Cruz has a proven record of standing for principle and doing what he says he will do."
"If you like what you got, you will have plenty of good candidates to choose from. But real change requires real leadership." said Executive Council Member David Wheeler. "I believe Ted Cruz is the only candidate who is serious about fixing Washington."
Below is the full New Hampshire Leadership Team:
Former U.S. Senator Bob Smith

Smith represented the state of New Hampshire in the U. S. House of Representatives for six years (1985-1990) and the U. S. Senate for 12 years (1990-2003). While a member of the U. S. Senate, Smith chaired the Environment and Public Works Committee as well as the U.S. Senate Ethics Committee. He was a leader in the efforts to cut spending and taxes and to balance the federal budget. He received the Golden Bull Dog Award every year in Congress for his votes to cut spending. He also received the highest ratings from the National Taxpayers Union and other fiscal watchdog organizations.
Former Speaker William L. O'Brien

William L. O'Brien is in his fifth term as a member of the New Hampshire House of Representatives, where he served as Speaker from 2010 to 2012. He is currently Republican Leader of the New Hampshire House. During Rep. O'Brien's term as New Hampshire Speaker, following unabated growth in the state spending, the New Hampshire House eliminated a budget deficit of almost 18 percent entirely by spending reductions, while also eliminating or reducing more than a dozen state taxes. Symbolic of the new approach to government brought forward by Speaker O'Brien, in 2011, New Hampshire returned all federal funds given to it set up a state Obamacare exchange with instructions for the federal government to use the funds to pay down the federal deficit.
Executive Councilor David Wheeler

Councilor David K. Wheeler first won election to the New Hampshire Executive Council from District Five in 2000, after serving many years in legislative service in both the New Hampshire State Senate and the New Hampshire House of Representatives. He has subsequently served on the Council from 2003-2005, 2011-2013 and was re-elected for the 2015-2017 term. Councilor Wheeler was elected to the New Hampshire House of Representatives in 1988. He served for two terms from 1988 to 1992. From 1992 to 1998 Councilor Wheeler represented state Senatorial District 11. He served as Majority Whip of the Senate from 1994 to 1998.
Esther Brown, Amherst

Esther is a software engineer. She has been active in conservative politics for many years.
Rep. Duane Brown, Wentworth

Representative Brown was elected in 2014 and represents Grafton County District 16 which is comprised of Canaan, Dorchester, Ellsworth, Groton, Orange, Rumney, Thornton, and Wentworth.
Rep. Carol Bush, Newington

Carol was elected in 2014 to the State House and represents Newington, Greenland, N. Hampton, and Portsmouth Ward 3. Carol is also a small-business owner.
Dana Chapman, Rochester

Dana is a conservative Seacoast activist. He has been active in Republican and conservative politics for many years.
Lawrence Cheetham, Bedford

Lawrence is a resident of Bedford and was a 2014 candidate for Hillsborough 7 of the State House.
Robert Clivio, Raymond

Robert is the founder of NH4Israel.
Jane Cormier, Hooksett

Jane is a former State Representative of Alton and 2014 State Senate Candidate for District 16.
Terry Cox, Webster

Terry has been active in conservative politics for many years by building faith-based coalitions across the state.
Rep. Susan and Jerry DeLemus, Rochester

Susan and Jerry DeLemus are top liberty minded activists from Rochester. Susan is in her 2nd term as a state representative. Jerry is a former candidate for Strafford County Sheriff and founder of the Rochester 9/12 group.
Steven Goddu, Salem

Steve is a Salem businessman, running a printing company and a top GOP activist in southern Rockingham County.
Karen Goerndt, Brentwood

Karen is a small business owner and has been involved in conservative politics for several election cycles.
Rep. Jeff Harris, Epping

Serving in his 2nd term in the State House from Epping, Harris has served in Epping town government in multiple positions.
Rep. Eric Johnson, Campton

Eric is a first term state representing Campton and is a small business owner.
Steve Kenda, North Hampton

Steve is a small business owner and former candidate for State Senate. Kenda is one of New Hampshire's strongest liberty voices and a champion for liberty causes.
Warner Lund, Bedford

Warner Lund is a veteran and a dentist. He has been activist in Hillsborough and Bedford politics for many years.
Sylvia Manley, Freedom

Sylvia will be helping the campaign organize in Carroll County. Originally a Texas native, Manley has strong ties to Senator Cruz.
Terry McCarthy, Conway

The husband of Representative Frank McCarthy in Carroll Conway. Terry is very active in the state's Republican Women groups.
Pat and Larry Miller, Merrimack

The Miller's are long time confidants of Senator Bob Smith.
Rep. Josh Moore, Merrimack

Josh was elected to the State House of Representatives in 2014. Moore will organize Millennials for Cruz.
Rep. Jeanine Notter, Manchester

In her 3rd Term in the State House, Notter is a mother and State Rep from Merrimack tied into the faith based and liberty movements.
Donna Price, Exeter

Republican Woman activist who has strong ties to the GOP activist community in eastern Rockingham County.
Rich Riley, Portsmouth

Rich is a small business owner and a strong Republican Party activist.
Michael Roccio, Strafford

Michael is a Junior at UNH and has been very active in the College Republicans, he will be our UNH Chair.
Sally Rosa, Newmarket

Sally has been a strong Republican Party and conservative activist in the Seacoast for many years.
Rep. David Scott, Dover

David is a former State Representative from Dover and business owner.
Craig Sheffert, Hampton

Craig has actively been involved in Republican campaigns for several election cycles.
Rep. Ken Sheffert, Hampton

Ken is a former State Representative for Hampton.
Kevin Sleeper, Andover

Kevin has been a small business owner and has been strong voice in tea-party politics for many years.
Pam Smith, Manchester

Pam is a Manchester resident and known for her hard work campaigning in the city for conservative, liberty-minded candidates
Rep. James Spillane, Deerfield

Serving in his first term in Concord, Spillane is a strong voice for small government, the 2nd Amendment and personal liberties. Spillane is a lifelong hunter and active in town government.
Laura Spottiswood, Pelham

Laura has been a prominent conservative activist in Pelham for many years.
Steve Stefanik, Manchester

A life-long Granite Stater, Stefanik has been one of the strongest 2nd Amendment advocates in the state and will be helping to organize that community.
Paula and Joseph Tarta, Rye

Paula and Joseph have been strong activists in Seacoast Republican politics for many years.
Michelle Trant, Londonderry

Michelle is new to politics and took a leadership role for Senator Cruz after her child was part of the "world is on fire" news stories.
Rep. Len Turcotte, Barrington

Len is a pilot with American Airlines and State Representative for Barrington. He has been a member of the Strafford County Republican Committee for many years and serves as their Rules Chairman.
Patrick Wetmore, Lebannon

Patrick has been a strong conservative activist within Grafton County Republican politics for many years.
Dean Whiteway, Hooksett

Dean is a former member of the Canadian Parliament and a faith-based leader here in the Granite State.
Rep. Greg Salts, Manchester

Greg is a former State Representative and has been a strong activist in conservative politics for many years.
Alan Rice, Bedford

Alan is a businessman and training director at the New Hampshire Firearms Coalition.
SOUTH CAROLINA LEADERSHIP TEAM
Ted Cruz, Press Release - New Hampshire Conservatives Coalesce Behind Cruz for President Online by Gerhard Peters and John T. Woolley, The American Presidency Project https://www.presidency.ucsb.edu/node/315003